How to host Exchange 2013 with Minimised Cost ?
I just tried to find some answers for that . and create a step by step procedure
Step 1:
Find the best Location – With Good Power , Can Withstand disaster
If you don't have a good infrastructure . Never worry , There are Cloud Servers you can rent .
There are many providers in the Market.
Step 2:
Choose a good Control Panel to Server the clients
There are good Software's in the market.
Citrix
http://www.ems-cortex.com/
If you feel you don't want to invest on a huge licensing cost for a Control panel. There are open source Control Panels available in the market
WebsitePanel
Note : No much documentation available , You may need to spend much money on Support in fixing some issues
Choose Simplest Architecture – With Good High availability and Best options to Expand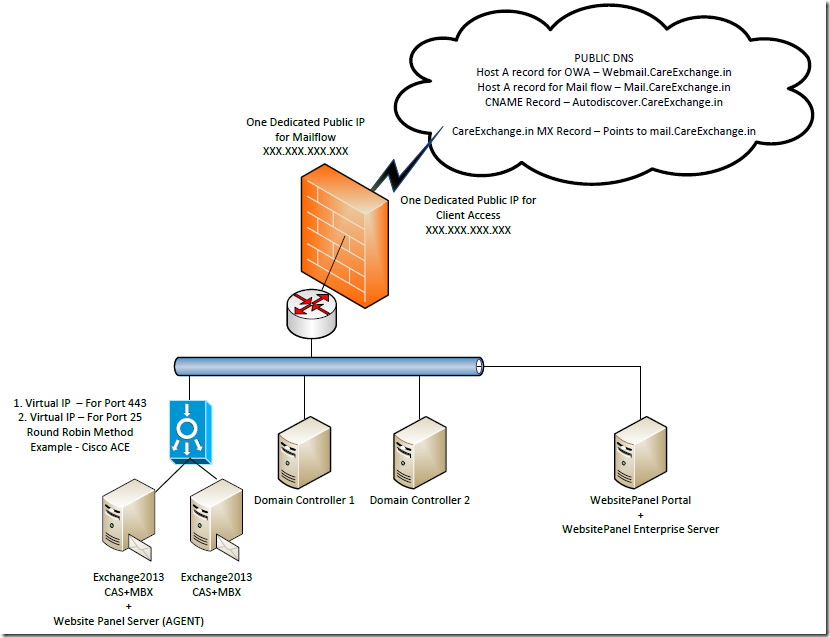 Step 3:
Purchasing Part
Required Hardware –
64Bit Servers – 5
1 hardware load balancer – It can be Cisco ACE , F5 , Kemp
Windows server 2012 licences – 5
Required Public IP – 2
Required Public DNS records – 4 ( As per diagram )
Exchange SSL Cert from Digi Cert, Go Daddy with those DNS entries
Exchange Servers Will need 16GB Ram Each , with high Processor Range
Domain Controllers will require 8 GB Ram Each
Websitepanel Server will require 16GB Ram
All Servers are High availability Configured with this configuration
Website panel Portal server will be single point failure (As is not going to disrupt the service even when it goes down)
Step 4:
Promote 2 Machines as Domain Controllers
https://www.azure365pro.com/how-to-promote-windows-server-2012-as-a-domain-controller/
Step 5:
Install Exchange 2013 all roles on 2 Servers
https://www.azure365pro.com/how-to-install-exchange-2013-on-windows-server-2012/
Step 6:
Configure Database Availability Group for MBX Role
https://www.azure365pro.com/how-to-create-a-database-availability-group-in-exchange-2013/
Step 7:
Configure Client Access High Availability for CAS Role
https://www.azure365pro.com/how-to-load-balance-client-access-server-in-exchange-server-2013-high-availability/
Step 8:
Configure your Public DNS records to VIP
https://www.azure365pro.com/configuring-public-dns-and-mx-records-for-exchange-2013/
Step 9:
See How to Install and Configure Open source Control panel for Exchange 2013
How to Install Website Panel 2.1 Windows Server 2012
https://www.azure365pro.com/how-to-install-website-panel-2-1-windows-server-2012/
How to Configure Website Panel 2.1 for Exchange Server 2013
https://www.azure365pro.com/how-to-configure-website-panel-2-1-for-exchange-server-2013/
Step10:
Test the High Availability
Step 11:
Buy a SSL Cert from anyone of the Certificate Providers like Digi Cert,Go Daddy
Configuring 3rd Party SSL Exchange Certificate in Exchange 2013
https://www.azure365pro.com/configuring-3rd-party-ssl-exchange-certificate-in-exchange-2013/
Step 12:
Find a Client – Start Selling mailboxes
Tough part

Hope Its helpful guide to start from scratch.