What is Autodiscover ?
Autodiscover is a feature of Exchange Server . Outlook 2007/2010/2013 and Active sync mobile clients use this methodology to configure their clients with just email address and password. Where Autodiscover helps in retrieving all the server information and URLs information automatically.
Understanding Outlook Autodiscover is more important where you can have your Outlook configured in seconds, you should have control over your autodiscover methods used in your environment.
Outlook has a pre-defined set of methods to go in order , So if you are using like 4th option in your autodiscover order , Outlook will try the first 3 methods in order to reach the fourth method. If you want to have your Outlook to configure quickly or to restrict your outlook to redirect to a wrong server.
You can disable autodiscover methods through registry entries or through group policies
Disabling via GroupPolicy –
Administrative Templates–>>Microsoft Outlook 2013–>>Account Settings–>>Exchange–>>Disable AutoDiscover.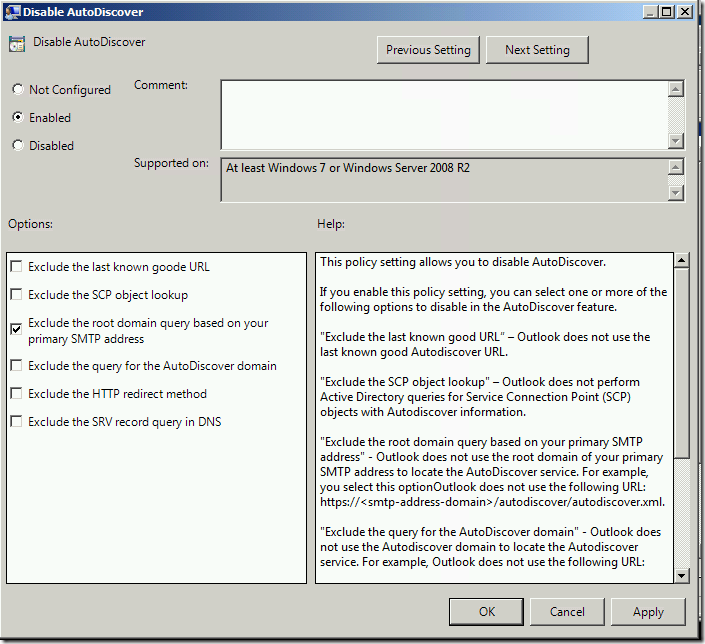 Refer below link for deploying and Configuring administrative templates.
Deploy Office 2013 Sp1 via Group Policy to all domain joined machines
Disabling via registry – HKEY_CURRENT_USER\Software\Microsoft\Office\x.0\Outlook\AutoDiscover
Note –
Value 1 — DISABLE
Value 0 — ENABLE
Below screenshot disables HTTP Redirect and HTTPS Autodiscover Domain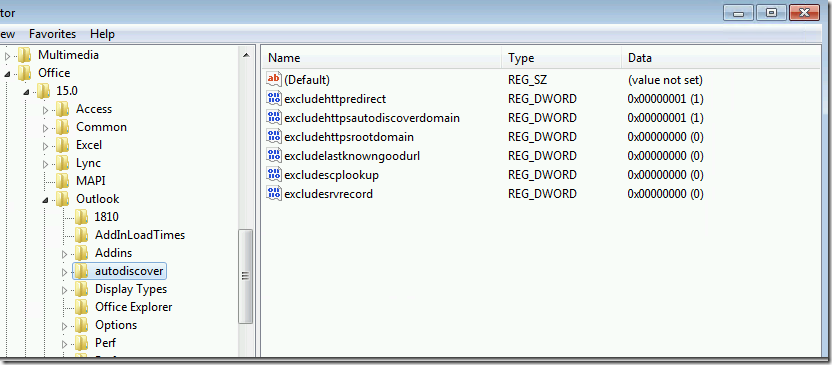 Autodiscover redirect servers saved in below location –
HKEY_CURRENT_USER\Software\Microsoft\Office\x.0\Outlook\AutoDiscover\RedirectServers