Active Directory Servers – Error Issuing Replication : 8304 (0x2070):
The Maximum Size of an object has been exceeded . Active Directory Replication Fails with below Error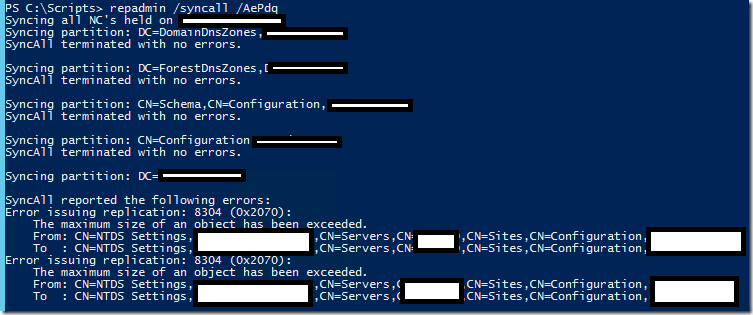 Solution –
To See which Object Causing the issue.
Event Viewer – Directory Service – Event ID 1093 Replication

Below Event Clearly Shows the Object Name and the attribute Causing the issue.
Reference Event –
Log Name:      Directory Service
Source:        Microsoft-Windows-ActiveDirectory_DomainService
Date:          8/25/2017 2:34:53 PM
Event ID:      1093
Task Category: Replication
Level:         Warning
Keywords:      Classic
User:          ANONYMOUS LOGON
Computer:      AD.CareExchange.in
Description:
Active Directory Domain Services could not update the following object with attribute changes because the incoming change caused the object to exceed the maximum object record size. The incoming change to the following attribute will be reversed in an attempt to complete the update.
Object:

CN=Computer1,OU=Computers,DC=Careexchange,DC=in
Object GUID:
333333-f6b6-33e2-9333-333362ceed0
Attribute:

8cc6b307 (ms-Mcs-AdmPwdHistory)
The current value (without changes) of the attribute on the local directory partition will replicate to all other directory services. This will counteract the change to the rest of the directory services. The reversal values may be recognized as follows:
Version:
1433
Time of change:
2017-08-25 14:34:53
Update sequence number:
13333392
—
In my Case its the Local Account Password Solution keeps the unlimited password history. Causing to exceed the maximum object size.
Once i clear the attribute, Solve the replication issue.