Scenario –
Customers have source Exchange 2010/2013 and they want to migrate to a Private Cloud which runs Exchange 2013.
So in the initial phase of migration some users are going to be in On-Prem (On Premises Server) and Private/Hosted Cloud.
We will be sharing the same domain namespace for some period of time.
In Simple Words Testcareexchange.biz is the Customer who is going to migrate to a Private/Hosted Cloud to use Testcareexchange.biz
This article will cover only the concept how outlook (On-Prem) going to recognize cloud users and redirect them to the private cloud. (where it requires AD sync to sync the passwords which will be covered in future articles)
Lets assume TestcareExchange.biz has 5000 mailboxes .
They have DNS records Mail.TestcareExchange.biz and autodiscover.TestcareExchange.biz
which points to their On-Prem Server. I cannot change the autodiscover records as they will create issues for my On-Prem users where it runs Exchange.
Now Lets say I Migrate Sathesh@testcareexchange.biz from OnPrem Server to Cloud.
Once Data Migration is done.
I will login in the On-Prem Server and disable the mailbox of the migrated user so that my Active Directory Account is retained.

Now Click on Contacts –> + –> Mail User .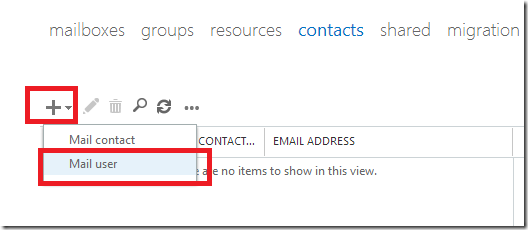 Choose Existing User and Connect to the same Active Directory account which you disabled . where you don't disturb the Users desktop profile
Am Entering External Email address as sathesh@testcareexchange.mail.cloud.com
Where In my Private/Hosted Cloud
My Mailbox has two Email Addresses
Primary – Sathesh@testcareexchange.biz
Secondary – sathesh@testcareexchange.mail.cloud.com
Autodiscover (Subdomain testcareexchange.mail.cloud.com) is pointing to –
autodiscover.testcareexchange.mail.cloud.com CNAME to autodiscoverredirect.cloud.com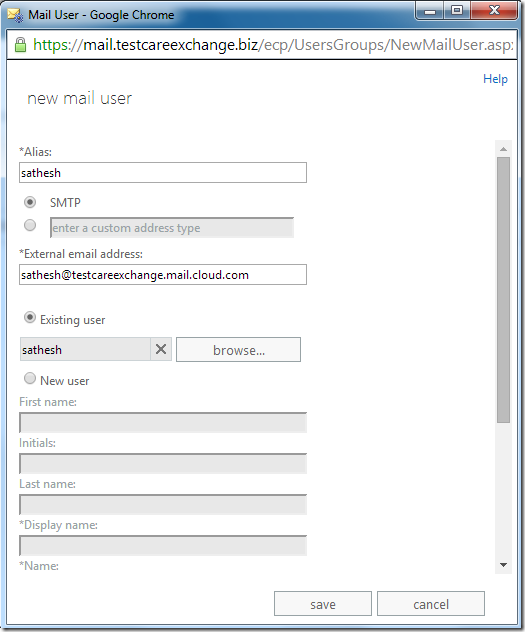 Click Save.
Now user logs in where the mailbox is migrate to the Cloud (This is Domain Joined Machine behaviour)
And the On-Prem Active Directory doesn't have a mailbox just a mail user with a target address specified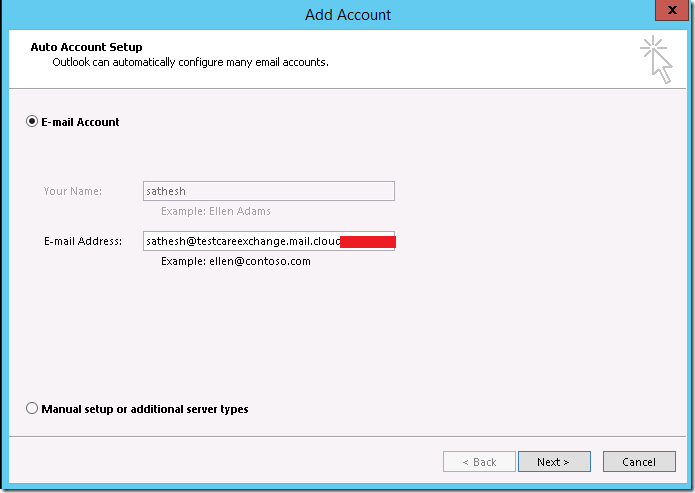 Autodiscover determines the mailbox is in the cloud.
Check "Don't ask me about this website again"
Click on Allow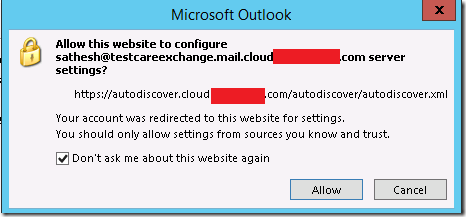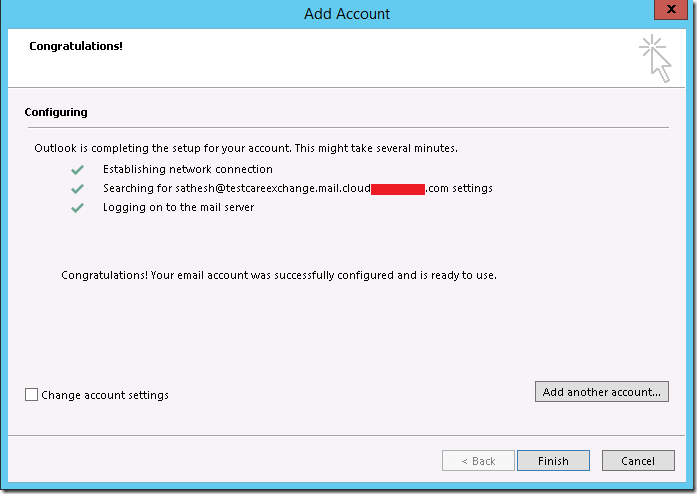 Now Outlook profile is connected.
Outlook Connected to the Cloud mailbox and shows only the  primary Smtp Sathesh@testcareexchange.biz by design.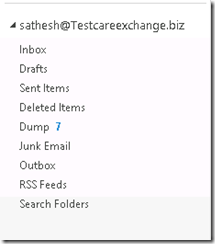 Now to see what really happening on the background
Run the Outlook Auto discover test
https://testconnectivity.microsoft.com

1. It determines the information of target address using autodiscover
2. Autodiscover acquires the server information of the target address

Hope this article is useful.
Will look forward to concentrate on ADsync/Mailflow in future articles.
Good to know – How Hoster will configure Autodiscover redirection.
How to Create Autodiscoverredirect record for Multi Tenant Scenario in Exchange 2013