Following the previous post, where we successfully set up the VMM 2012 R2 server you must know that VMM 2012R2 as a management server is also capable of managing various third party hypervisor hosts(like VMware and Citrix etc.) as well  and "FABRIC" is the management component where these Hypervisor hosts can be integrated and managed within.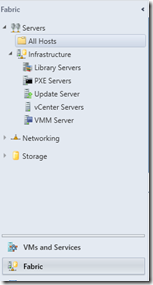 Now, for our lab we have 2 Hyper-V hosts installed and they are:
       MYLAB-HYPERV01.TECHDEFINE.COM
       MYLAB-HYPERV02.TECHDEFINE.COM
'FABRIC' in VMM gives an option to segregate the Hypervisor hosts in separate "Host Groups" and scope of this article would be creating the Host Group and configuring it with Hyper-V servers integration.
Host Group is basically for a unified management of multiple hypervisor hosts based on physical resources allocation like Network, Storage allocation, Dynamic optimization settings etc.. Host groups can also be delegated to certain administrators based on their roles.
So, lets go ahead and integrate our Hypervisor hosts.
We will start with creating a new Host Group.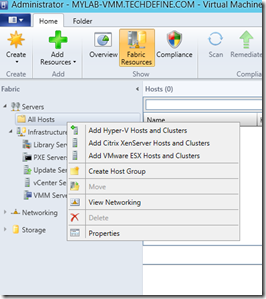 We named it "HYPERV HOST GROUP"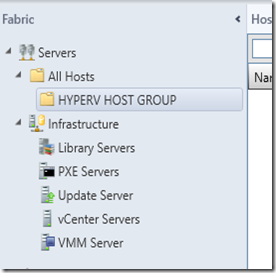 Now, click on "Add Resources" and select "Hyper-V Hosts and Clusters"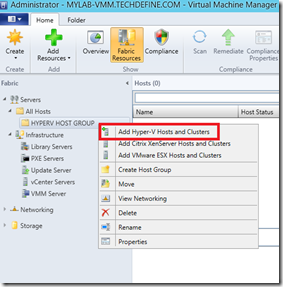 Select "Windows Server computers in a trusted Active Directory domain". Click on Next.
In the next page, you will get an option to select an account which will be used for discovery of the Hyper V hosts and install the VMM agent.
In our case, we created a new run as account "VMMAdmin" and selected it.
Also, make sure that this account has local 'Administrators' group membership in hosts which needs to be discovered in VMM. Click on Next.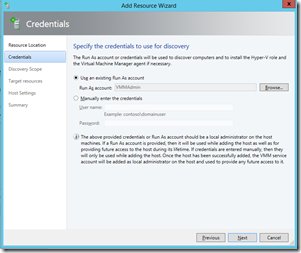 In the Discovery Scope option, mention the host names. I would prefer not to select "Skip AD verification". Click on Next.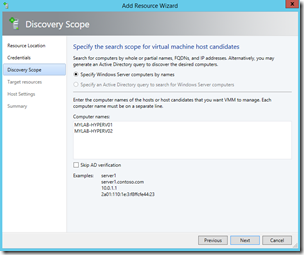 Select both the discovered Hyper-V Hosts. And, click on Next.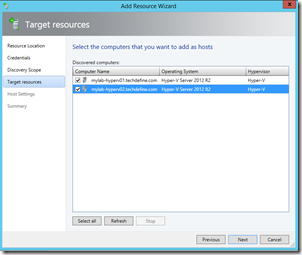 Specify the Host group which we created for Hyper-V hosts.
No need to re-associate as these hyper-v hosts are not managed by any other VMM server.
The location for the Virtual Machine to be created in a Host can be placed here. We are not selecting it here. Click on Next.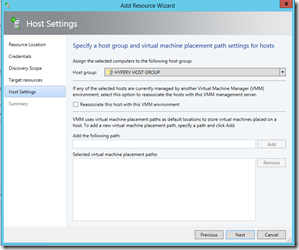 Confirm the settings and click on Finish.
Confirm if the jobs are completed. For us, it completed with warning which we can ignore for the time being.

So, now the Hyper-V hosts are integrated with in the Host Group and ready to be managed partially(Shared storage and Networking yet to be configured).

Now.lets look into the properties of this Host Group.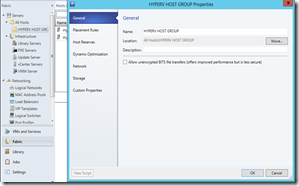 The Important properties are:-
– Placement Rules :
                       These settings helps to understand where(on which host) to place the Virtual Machine while migration or while manually creating. The placement algorithm based on the rule defined evaluates the performance data for the workload and the  host. The placement rule enhances the Hyper-V cluster in defining and selecting 'Preferred Owners', 'Possible Owners' and 'Availability Sets'.
You can find further information on this here.
– Host Reserves :
                      I personally liked this feature very much as this guarantees the performance of a Host. This feature technical helps the administrator to reserve the resources on a host level. The placement algorithm checks into the host reserves settings while placing the virtual machine and in case if the host requires resources from these reserved ones, it will throw an error. Hence, this feature helps to run a host with the best performance which the administrator wanted and set the resources with.!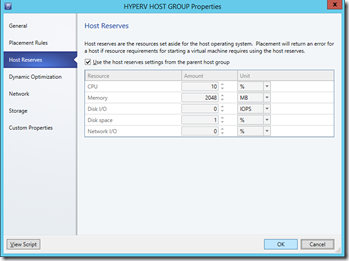 – Dynamic Optimization :
                      Using this property, an administrator can set the thresholds on the host level based on which Dynamic Optimization balances the VM load within a cluster. Administrators can even configure the aggressiveness level which when met, the VM's can be configured to get migrated to another host automatically.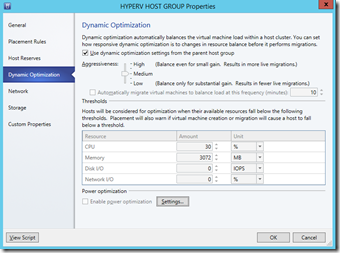 Power Optimization is an additional feature which can be also be used to save the power by evacuating a host of a balanced cluster. Technically, this feature is a very good one especially when you have a setup of multi node cluster.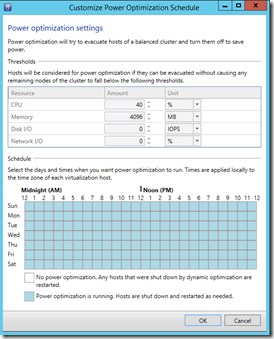 – Network :
              Here, The host group can be attached with the Network resources like 'IP Pools', 'Network Load Balancers' or 'Logical Networks'.
– Storage :
             Here, the Host Group can be allocated with the Storage Pools and LUN's.
Both Network and Storage needs their own configuration before it can be associated with a Host group.
And, our upcoming articles in this series would be explaining them in detail.
During this course, if you have any doubts or need any clarification please feel free to mail to info@careexchange.in
Stay Tuned….!