Click to view the Complete Sample Report
Provides Below Exchange Environment Information –
Number of Exchange Servers
Number of Databases
Number of Mailboxes
Number of Public Folder Mailboxes
Number of Distribution Groups
Number of Dynamic Distribution Groups
Number of Contacts
Number of DAG
Number of Accepted Domains
Number of Organizational Administrators
Exchange Server Roles
Exchange Server  Edition
Exchange Server Site
Exchange Server Operating System
Exchange Server Connectors used per Exchange Server
Mailbox Database Mount Status
Mailbox Database Mounted on Server
Mailbox Database Primary Content Indexing Status
Mailbox  Database Copies Information.
Mailbox Database Mailbox Retention Information
Mailbox Database Item Retention Information
Mailbox Database Circular Logging Information
Datacenter Activation Coordination (DAC) mode
Database Availability Group Witness Server Information
Database Availability Group Witness files location
Database Availability Group Member Replication status information
Short Description of Datacenter Activation Coordination (DAC) mode –
Datacenter Activation Coordination (DAC) mode is a property of a database availability group (DAG). DAC mode is disabled by default but should be enabled for all DAGs with two or more members that use continuous replication. DAC mode shouldn't be enabled for DAGs that use third-party replication mode unless specified by the third-party vendor.
DAC mode is designed to prevent split brain from occurring by including a protocol called Datacenter Activation Coordination Protocol (DACP). When DAC mode is enabled, DAG members won't automatically mount databases even if they have quorum. Instead DACP is used to determine the current state of the DAG and whether Active Manager should attempt to mount the databases.
Its recommended to enable DAC in a multi-site environment (Value – DagOnly)
You can Open Power shell – Run it on your Exchange Server.
you can customize few settings on the script to generate emails . By default the script saves the HTML File to "C:\ModernExchangeEnvironmentReport.htm"


# ----- Settings ----

#Should the Script Open the HTML File locally on Finishing the script - Say Yes - if you wish to

$Openhtmllocally = "No"

Write-Progress -Activity "Email Settings" -status "Storing Email Settings"
## ----- Email ----Fill in with your details

$EmailTo = "administrator@dubai.com"
$EmailFrom = "administrator@dubai.com"
$EmailSubject = "Modern Exchange Environement Report $Date"
# Creating Anonymous Relay - https://www.azure365pro.com/how-to-configure-a-relay-connector-for-exchange-server-2013/
$SmtpServer = "10.128.57.55"
$Attachment = "C:\ModernExchangeEnvironmentReport.htm"

# ----- Settings ----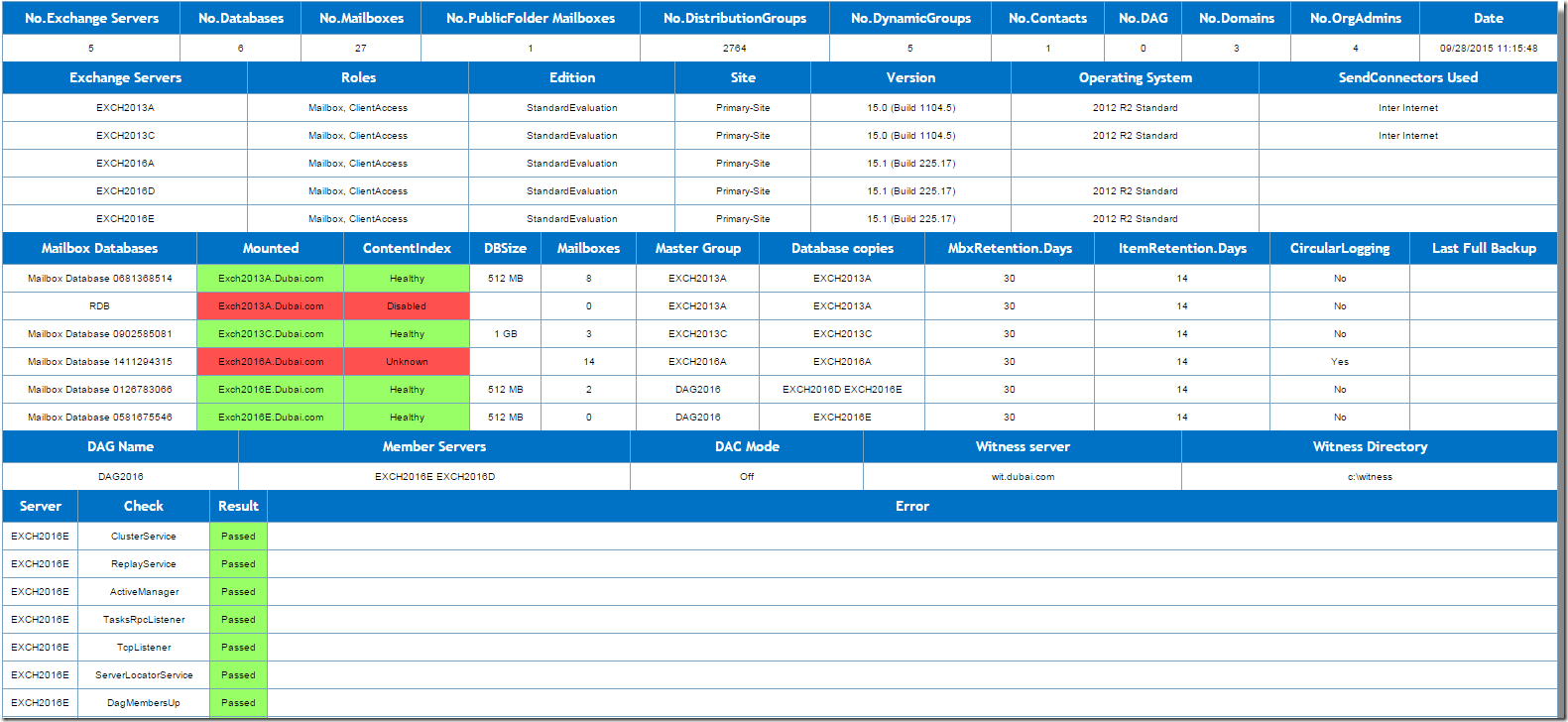 Click to view the Complete Sample Report