If you are Planning to implement on your organization please go through this blog first as Microsoft dropped hosting mode.
http://blogs.technet.com/b/exchange/archive/2011/10/13/future-of-hosting-mode.aspx
Let us learn installing Exchange 2010 Sp1 in Hosting mode on Windows Server 2008 R2 Sp1
Step 1.
I installed Service pack 1 on Windows Server 2008 R2 where I can overcome without installing hotfixes for Exchange 2010
Prerequisites Differs with the operating Systems
This Technet article would provide you for other versions of operating systems
http://technet.microsoft.com/en-us/library/bb691354.aspx
Step 2.
Download and Install "Microsoft Filter Pack" (64bit Version)
http://www.microsoft.com/download/en/details.aspx?displaylang=en&id=20109
Step 3.
On the Start menu, navigate to All Programs > Accessories > Windows PowerShell. Open an elevated Windows PowerShell console (Right Click – Run as administrator), and run the following command.
Import-Module ServerManager
And Running this command for typical installation where all the roles will be installed HUB , CAS and Mailbox Servers
Add-WindowsFeature NET-Framework,RSAT-ADDS,Web-Server,Web-Basic-Auth,Web-Windows-Auth,Web-Metabase,Web-Net-Ext,Web-Lgcy-Mgmt-Console,WAS-Process-Model,RSAT-Web-Server,Web-ISAPI-Ext,Web-Digest-Auth,Web-Dyn-Compression,NET-HTTP-Activation,Web-Asp-Net,Web-Client-Auth,Web-Dir-Browsing,Web-Http-Errors,Web-Http-Logging,Web-Http-Redirect,Web-Http-Tracing,Web-ISAPI-Filter,Web-Request-Monitor,Web-Static-Content,Web-WMI,RPC-Over-HTTP-Proxy -Restart

Step 4.
We Won't be able to use to GUI to Install Exchange 2010 sp1 in Hosting Mode
setup.com /mode:install /role:m,ca,ht /hosting /OrganizationName:CareExchange-ORG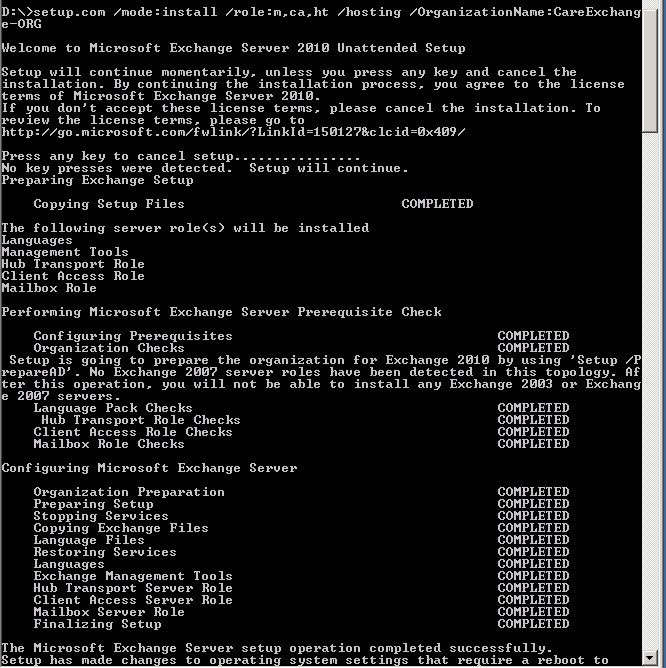 Step 5.
Reboot the Server
Great  !! Installation Is Successful !!
Additional Information —
Step 6.
You have Service plans where you can allocate for users
Like only OWA users or only Outlook users or Only Active Sync Users or All Type or Users
You can Edit your Services plan as you wish .
Default Service plans will be in this location
C:\Program Files\Microsoft\Exchange Server\V14\ClientAccess\ServicePlans"
Step 7.
Creating Organizations
New-organization -name CareExchangeOrg1 -DomainName CareExchangeorg1.com -ProgramId HostingSample -OfferId 2 -location en-US

Step 8.
Creating Mailboxes inside Mulit Tenant Organizations
New-Mailbox "Care10" -Organization CareExchangeOrg1 -UserPrincipalName CareExchangeOrg1.com

** No Exchange Management Console is available for Exchange 2010 Sp1 in Hosting Mode
**Active Directory "Microsoft Exchange Hosted Organizations"