We are planning to Migrate mailboxes from Exchange 2010. Where azure Ad connect is already in place and users are synced to Office 365. lets see how to migrate mailboxes to Exchange Online with minimal impact to end users.
Check lists –
Verify Exchange Servers is on Latest Rollup
Make sure you Export Send As/Full Access Permissions in a CSV so that you migrate the delegates in the same batch.
Make sure all users have the hybrid domain added in the proxy address for mail flow co-existence to work properly. You can export all proxy address to review
Make sure all existing smtp domains added to office 365 and verified using txt record.
Check mail enabled public folders are synced properly and shows up in the Global address list.
Verify Auto discover is configured properly from the external world with proper SAN Certificate.
Make sure transport rules are exported and imported to the cloud using Export-TransportRuleCollection | Import-TransportRuleCollection
Make sure dynamic distribution groups recreated.
Login to Office 365 Admin Portal . Exchange Admin Center.
Hybrid – Configure.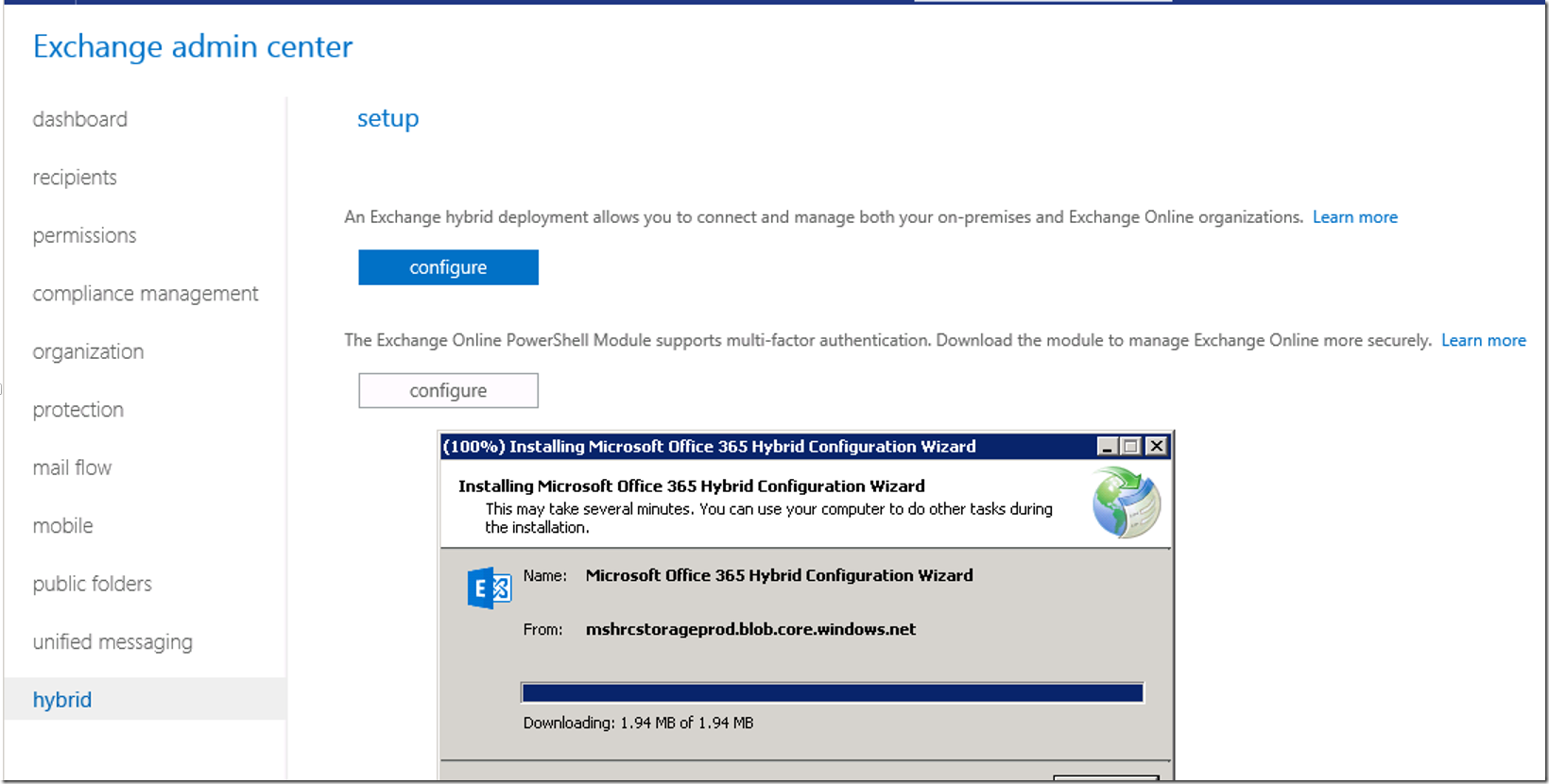 It detected my Optimal Internet facing Exchange server where auto discover is pointing to.
Choose Office 365 Worldwide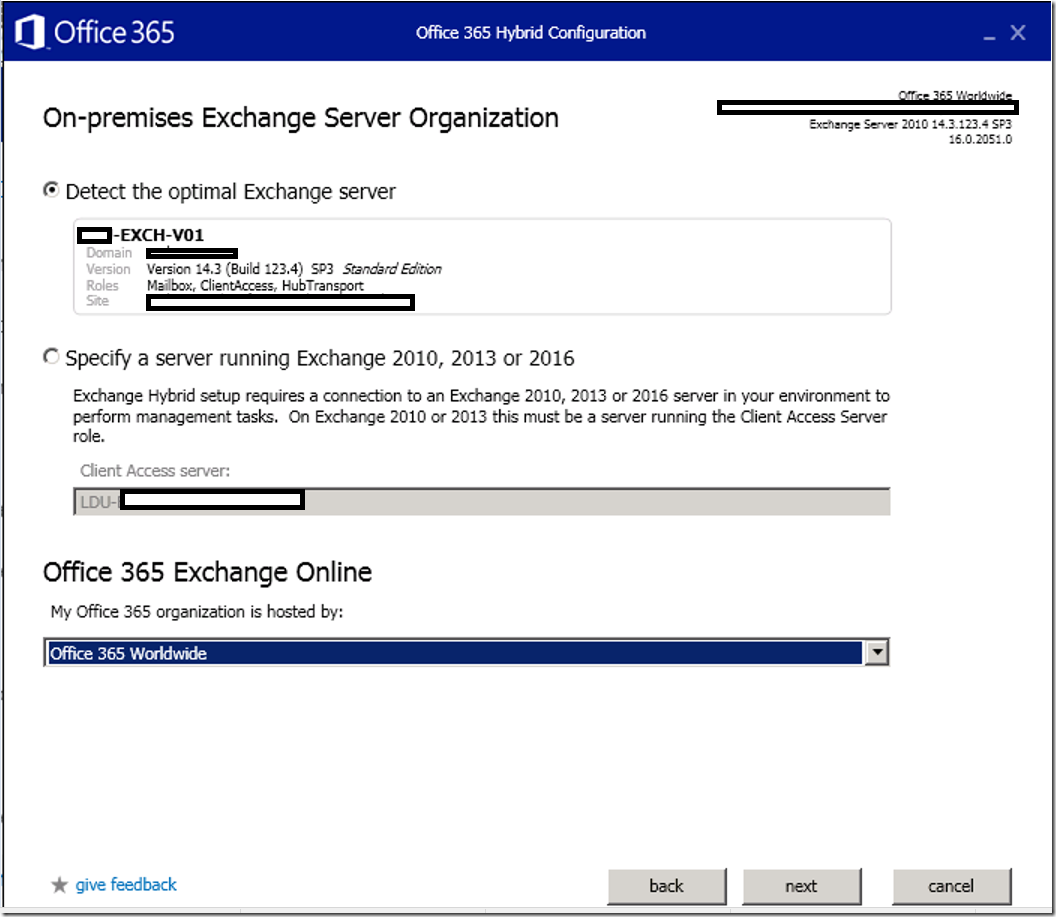 Created a Service Account for Hybrid to have Admin Access on Exchange Server and Office 365.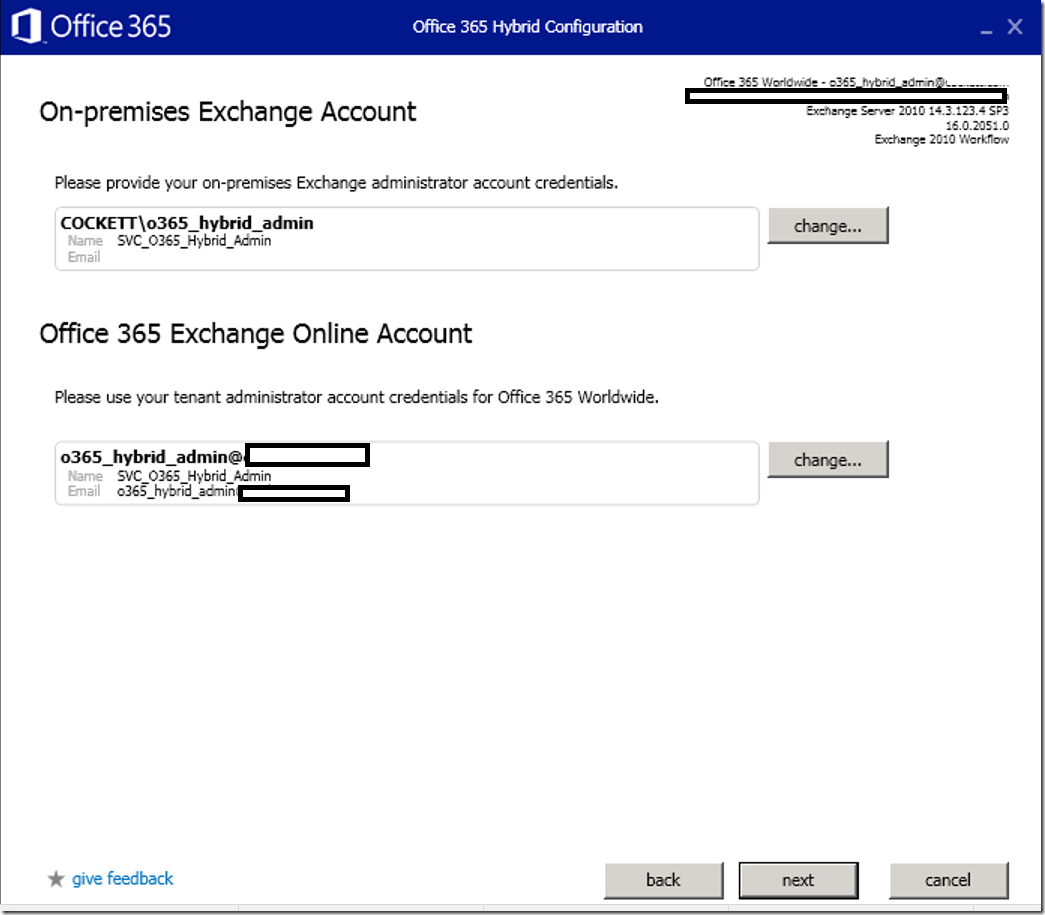 Exchange PowerShell and Exchange Online PowerShell test succeeded.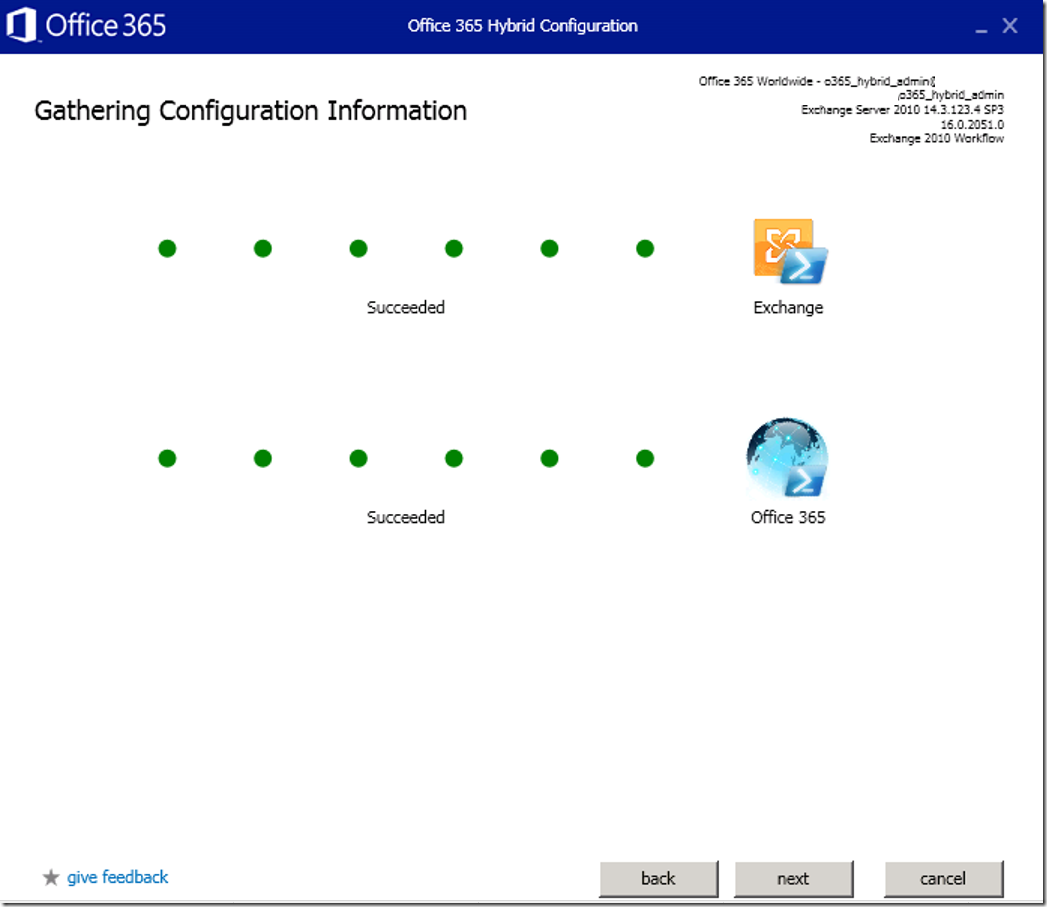 Choose Full hybrid Configuration. So that free/busy can be shared upon co-existence and more features.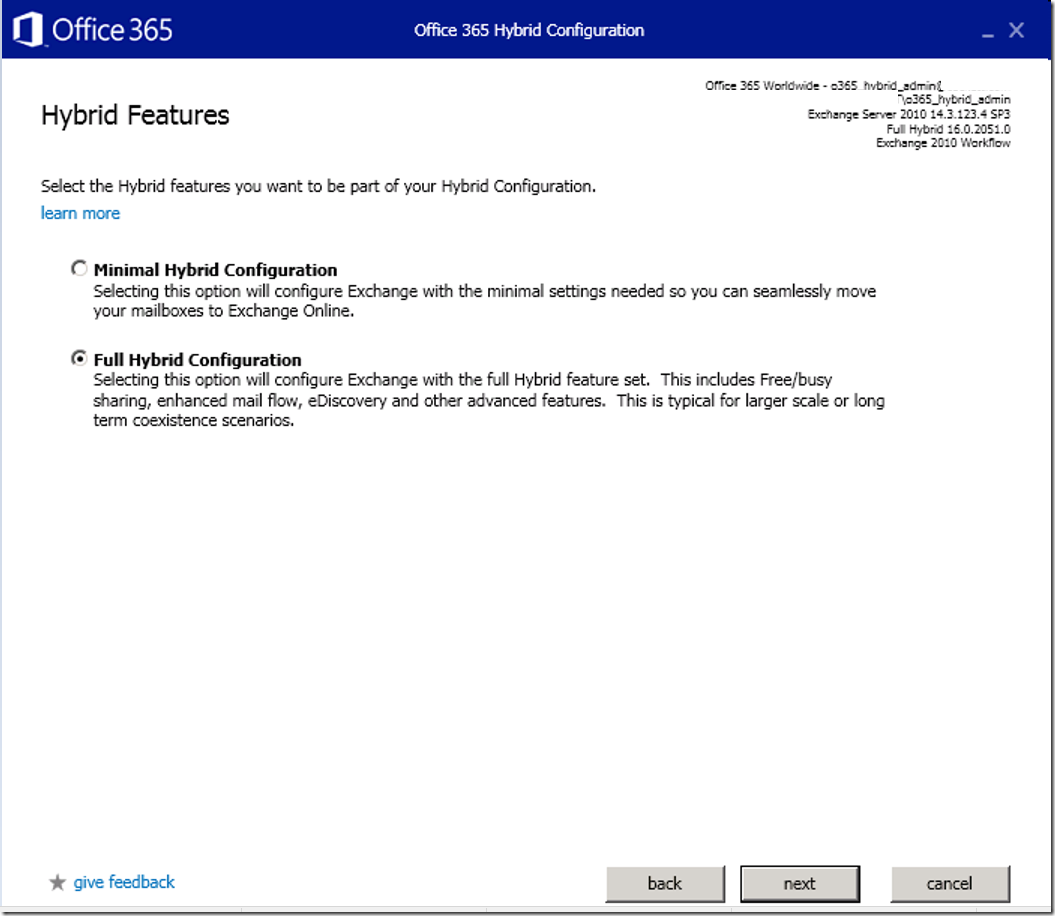 Select the domains which has proper autodiscover working from external world.which will be part of hybrid and make autodiscover set to true.
Good to know
Autodiscover Domain feature which we don't need to have Autodiscover services published for all the existing SMTP domains
With the Autodiscover domain feature, you have the option of setting one of your SMTP domains as the Autodiscover domain.
· There is no need to create an Autodiscover record for all SMTP domains in DNS, except for the domain you set as the Autodiscover domain
· There is no need to include the Autodiscover FQDN for all SMTP domains in the SAN certificate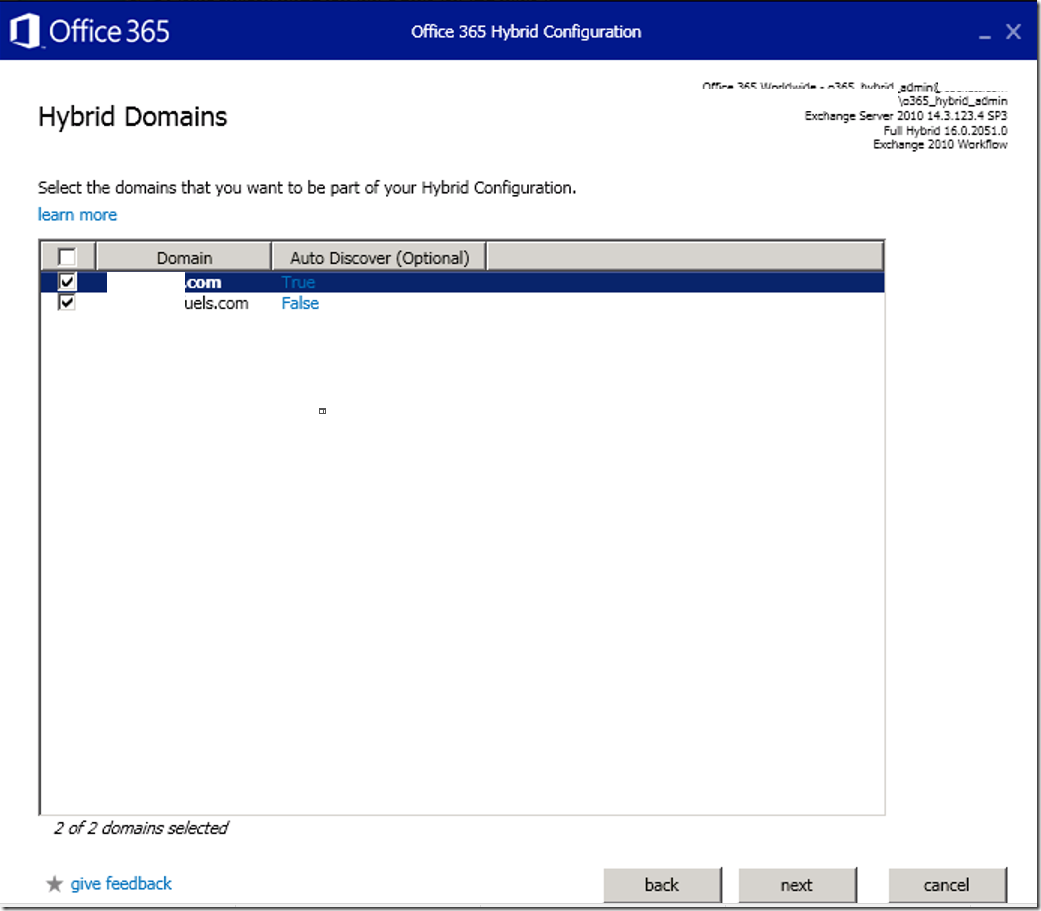 Make sure you have TXT Records added for Domain verification and run verify domain ownership.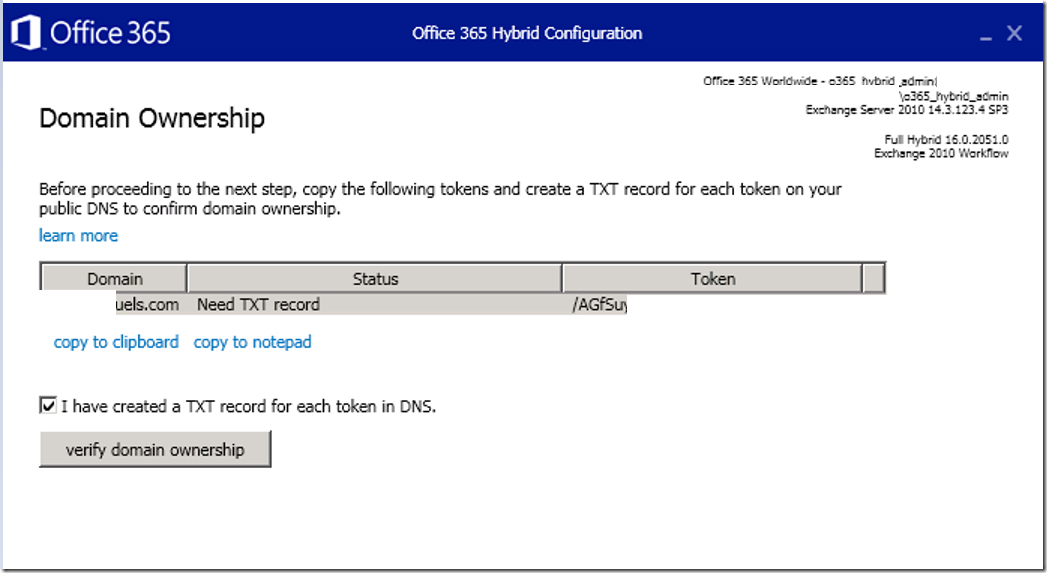 Choose – Configure my Client Access and mailbox server for secure mail transport.
Note : Do not choose Enable Centralized mail transport. Unless there is a specific requirement of routing all the mail flow via the on-premises Exchange Server.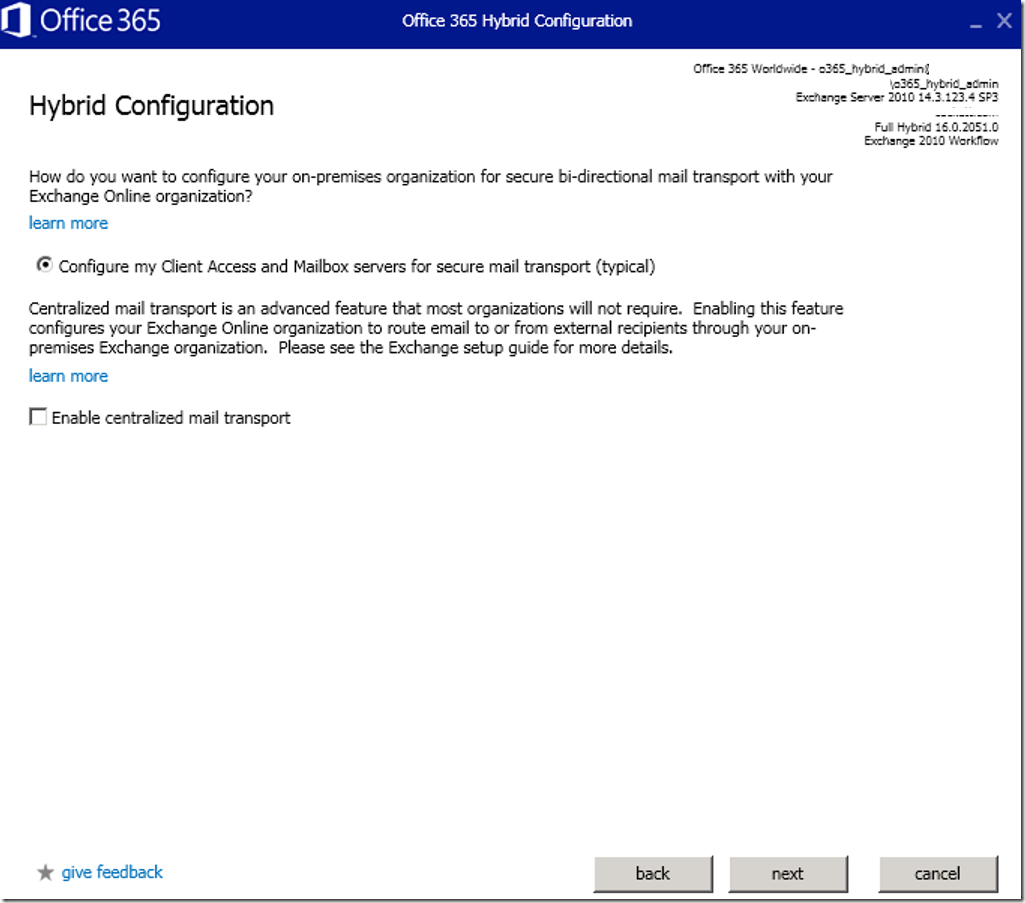 Choose the Hub Transport server which will be configured for secure mail transport. Its mostly the same internet facing server client access server with hub role installed.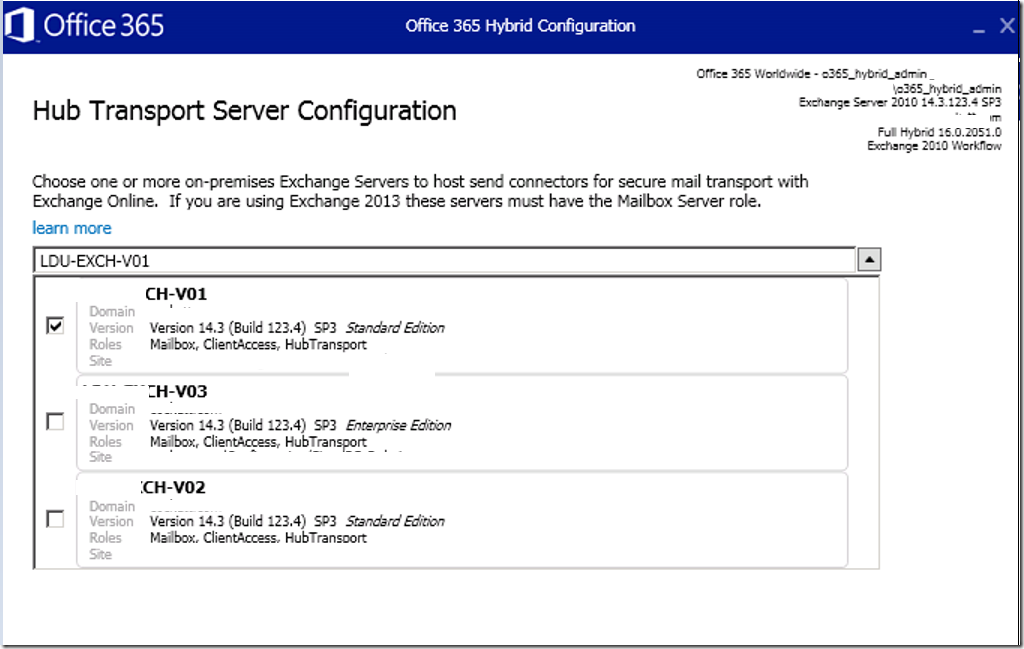 Enter the public IP address of the Mail transport servers.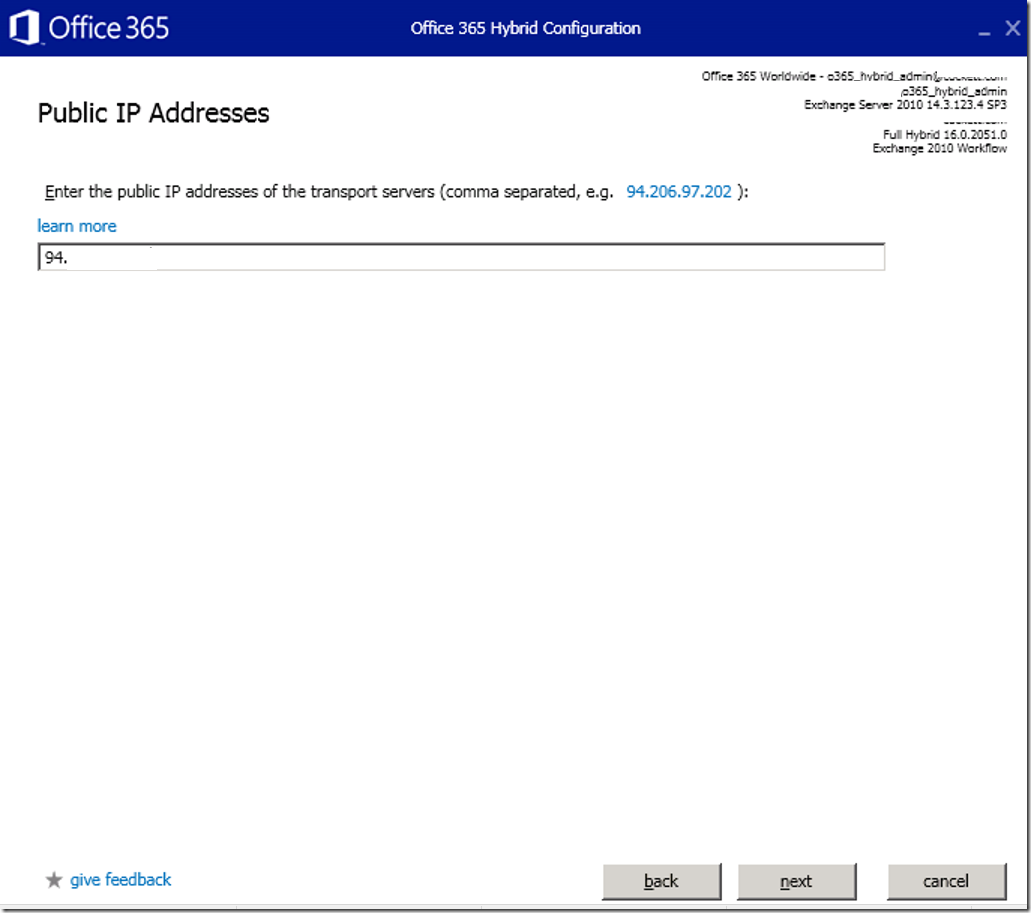 In my Case , Wildcard certificate was used for the primary domain. have chosen the certificate for securing hybrid mail transport.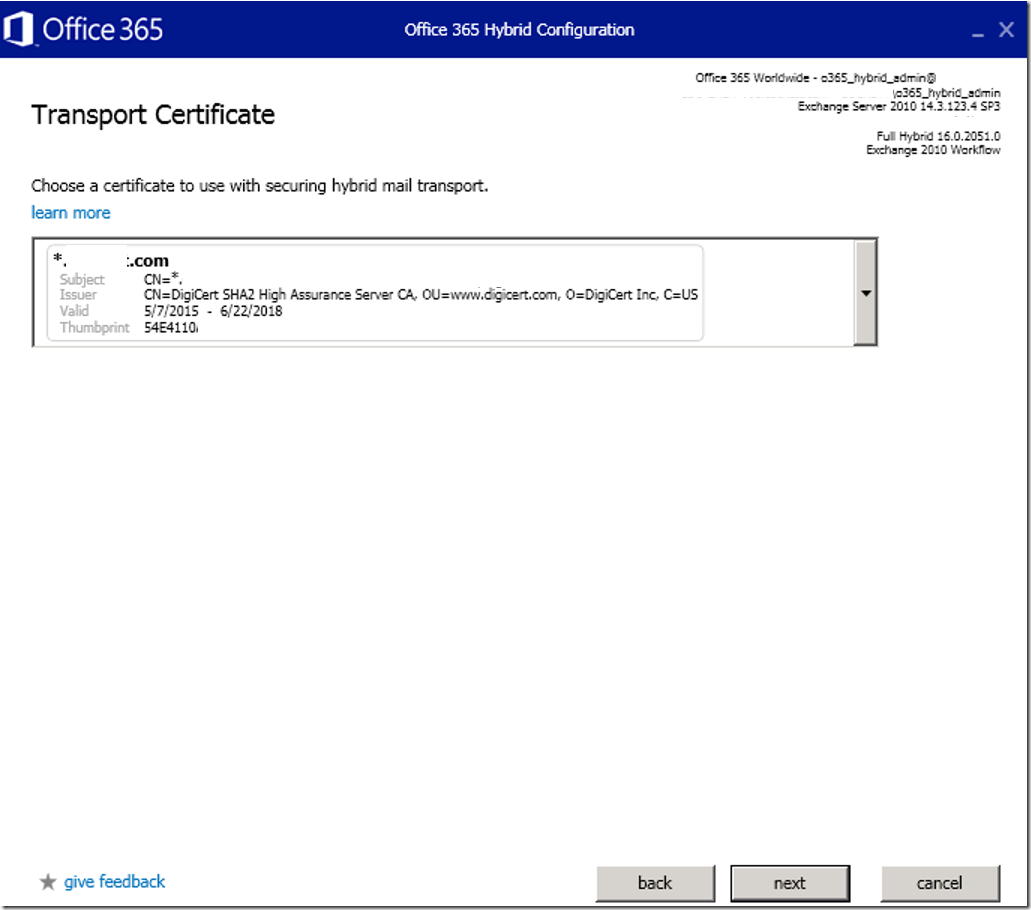 Enter the fully qualified domain name ,so that it will be used on the connector while sending out emails from Exchange online to On-premises
Make sure port 25 is allowed on the Fully qualified domain name. Refer link for Opening port 25 in a secure manner and not for all public Ips
https://technet.microsoft.com/library/dn163583(v=exchg.150).aspx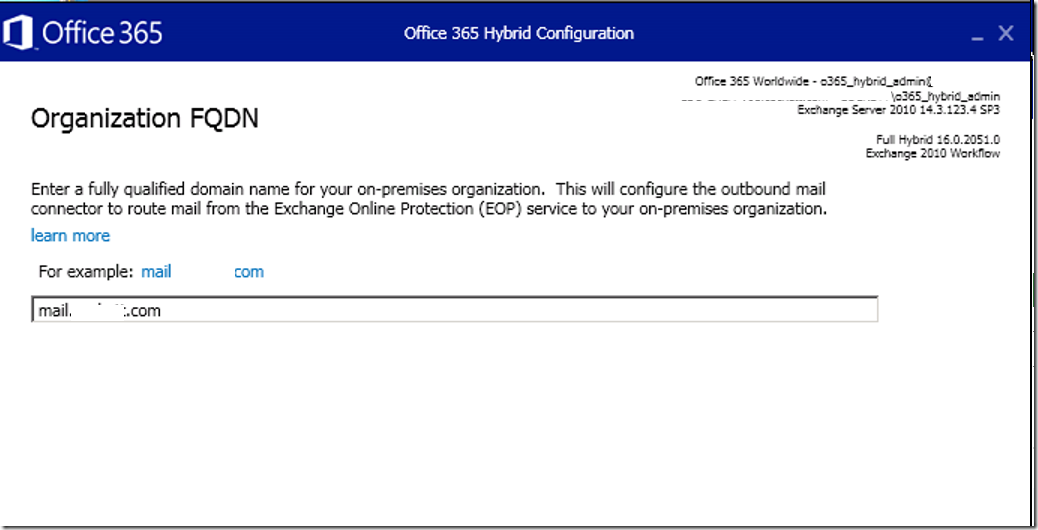 Choose Update –

Hybrid Configuration Wizard Completed Successfully.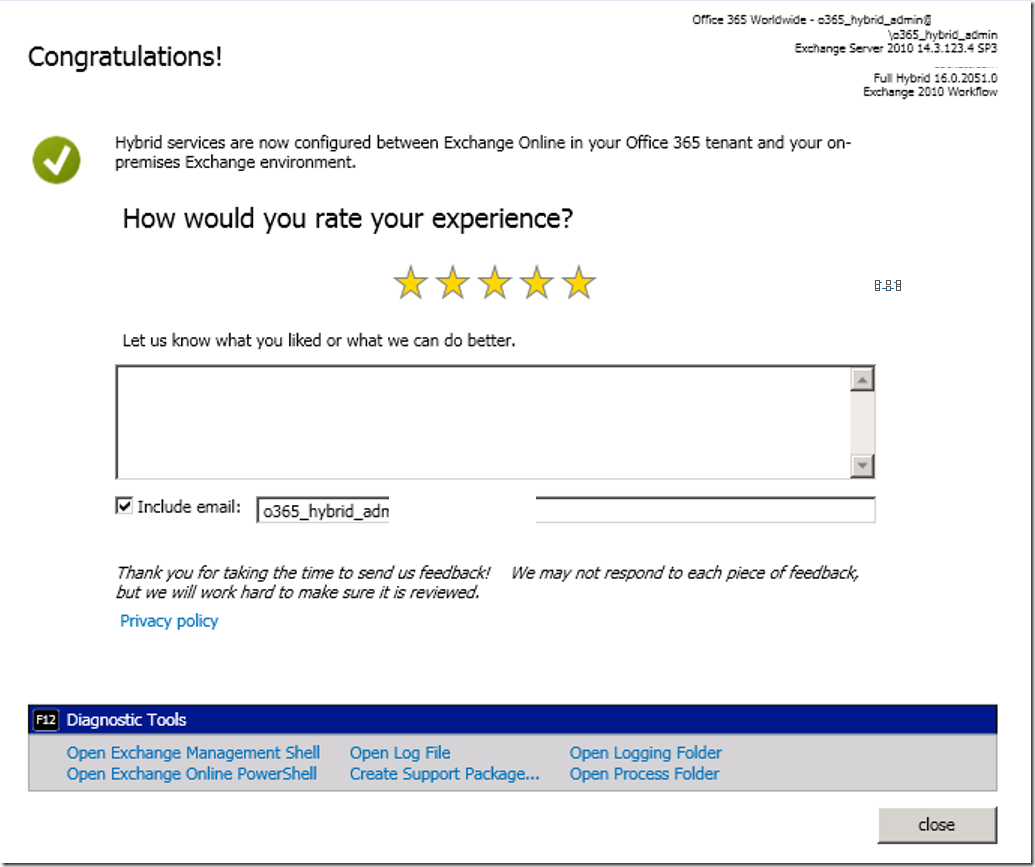 Login to Office 365 Admin Center.  Setup –> Data Migration
Make sure you are member of global administrator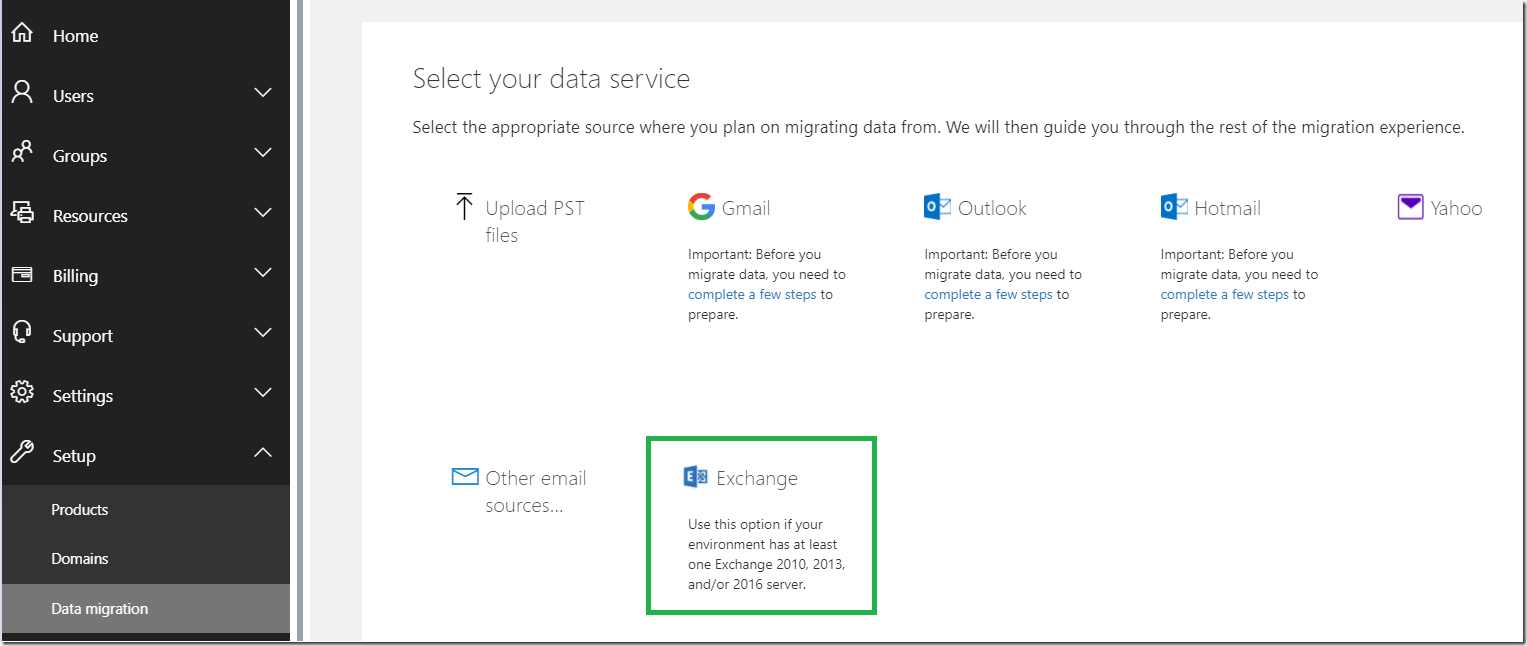 Make sure user has license and click on start migration.

Need to add an Migration Endpoint for the first time.So that specific endpoint will be used for migrating mailboxes to the cloud.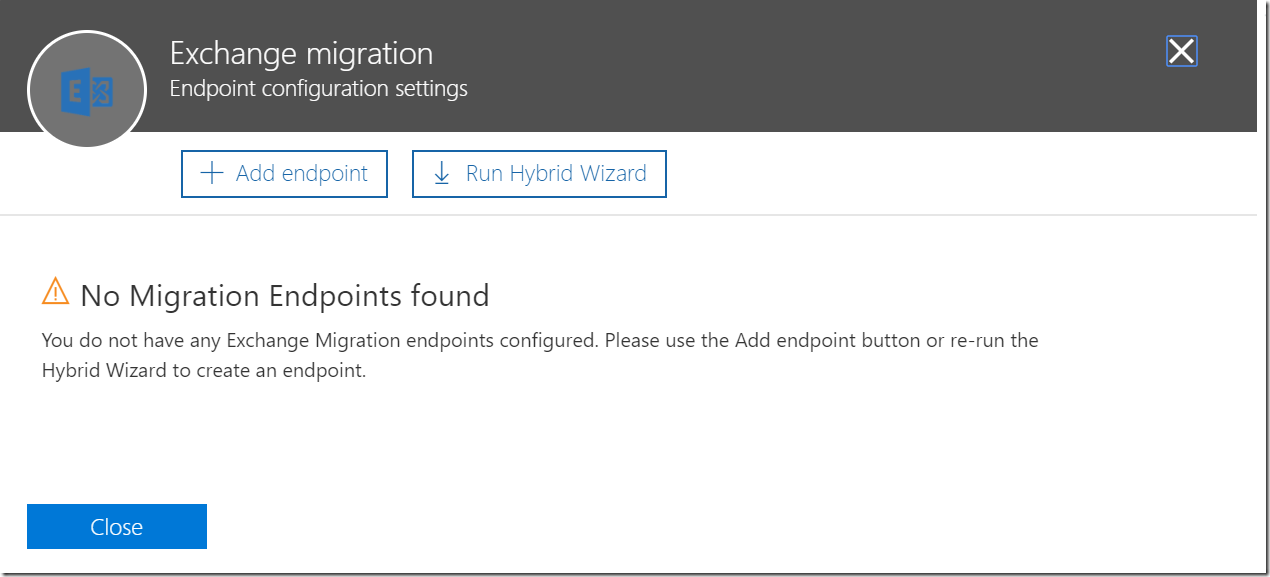 Add Migration Endpoint details , a mailbox primary smtp name to detect the endpoint automatically using autodiscover.
Enter the credentials which as access to the on-premises exchange server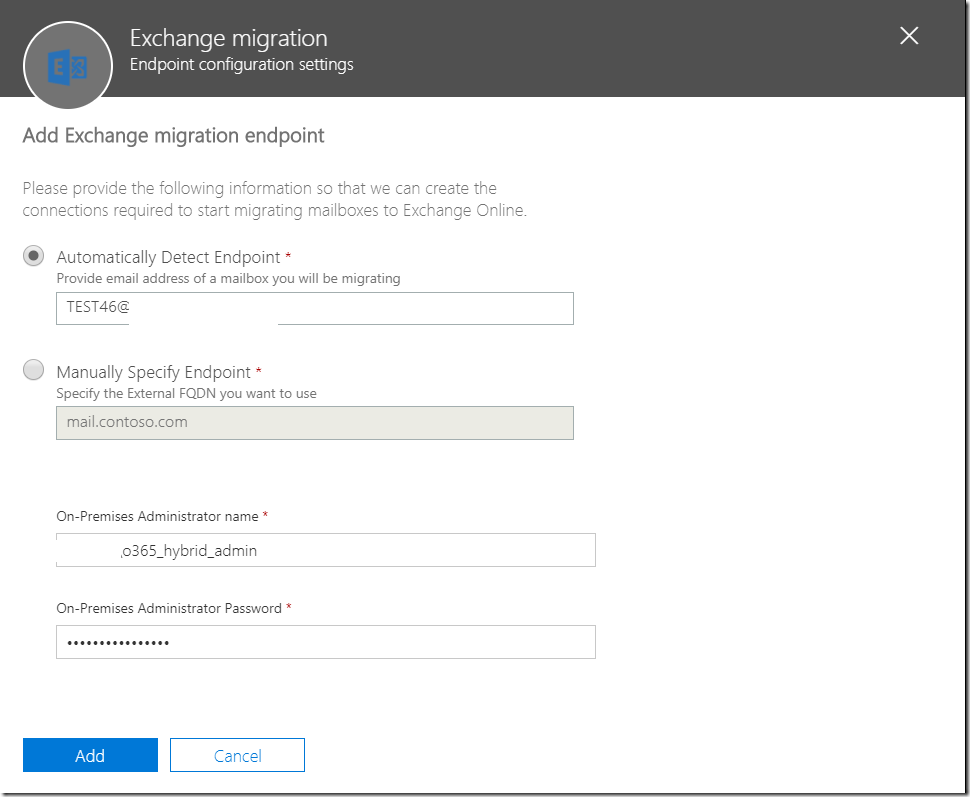 Migration Endpoint added successfully.

Allows 20 Concurrent Moves by default . which can be changed on the Exchange online control panel.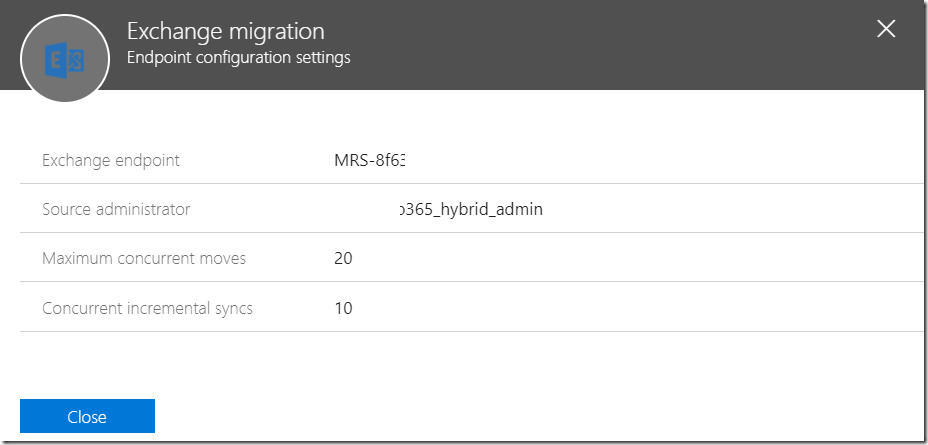 now if you choose start migration.
Mailbox should migrate to the cloud in few hours depends on the size.
Exchange Control Panel , Migration tab will be showing the exact items details.
Happy Exchange Online Migration. All the best.