Well, Creating DAG is much more simpler,
But configuring it properly is the best part to have it efficiently working.
So lets see how to create a 2 node DAG , where most of the Environments are willing to have 2 Dedicated servers for Exchange which has all the roles HUB,CAS,MBX.
NOTE **Am not Describing Client access array in this blog , Windows NLB won't work if you have all roles installed on the same Server
you should for a 3rd party NLB in this Scenario for Client access Array ,
I will describe my environment now
I have 2 AD sites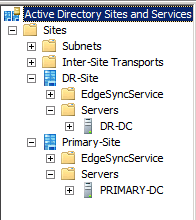 Exchange Servers = 2 , Every AD site has a Exchange Server

========================================================
First we will prepare the Environment for the DAG
You can Skip this Step if you are not going to Have your File Share Witness in the Domain Controller
Am Adding Exchange Trusted Subsystems in Administrators Group as am going to have my File Share Witness in the "Primary-DC"
To get rid of permissions issue. If you are not giving this permission , you may end up with the below error while creating DAG.
Insufficient permissions to access file shares on witness server . Until this problem is corrected, the database availability group may be more vulnerable to failures. You can use the Set-DatabaseAvailabilityGroup cmdlet to try the operation again. Error: Access is denied
Open Administrators Group and add Exchange Trusted Subsystem Group to it.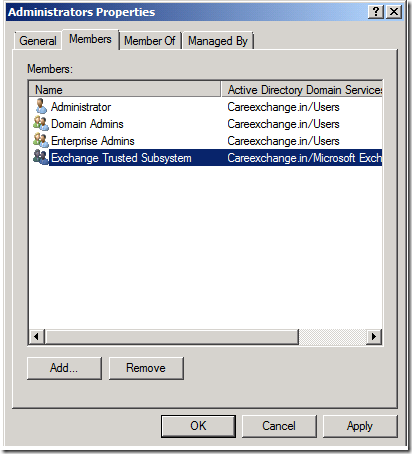 ———————————————————————————-
I will have my Primary LAN . Will add a Replication LAN ,for my DAG replication
So that I will come out of an Single point of failure on my LAN
If my replication network fails it can failover to the production network. vice versa.

My Replication Network , IP configuration should be defined as below
as one machine cannot have 2 default gateways,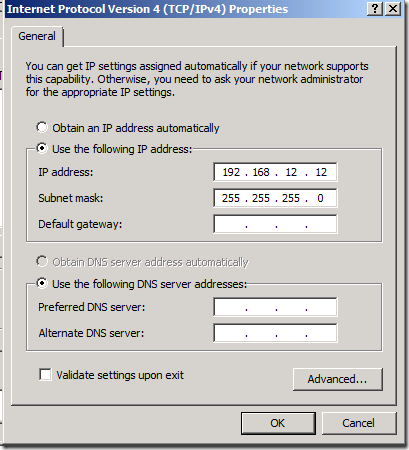 Will do the same on both the nodes . will add a route for my Replication IP , so that they can ping each other
==========================================================================
Now we will  Create a DAG ,

Specify the DAG name . Witness Server Name , Witness Location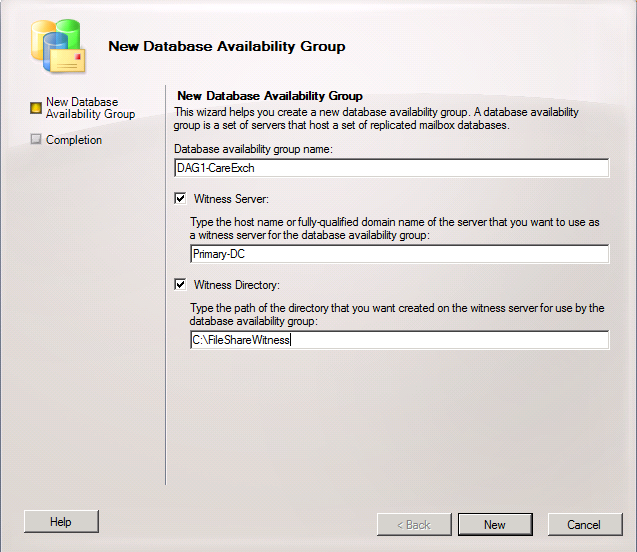 " Always have File Share Witness in the Primary Site "
Now my DAG is Ready
Add members to it.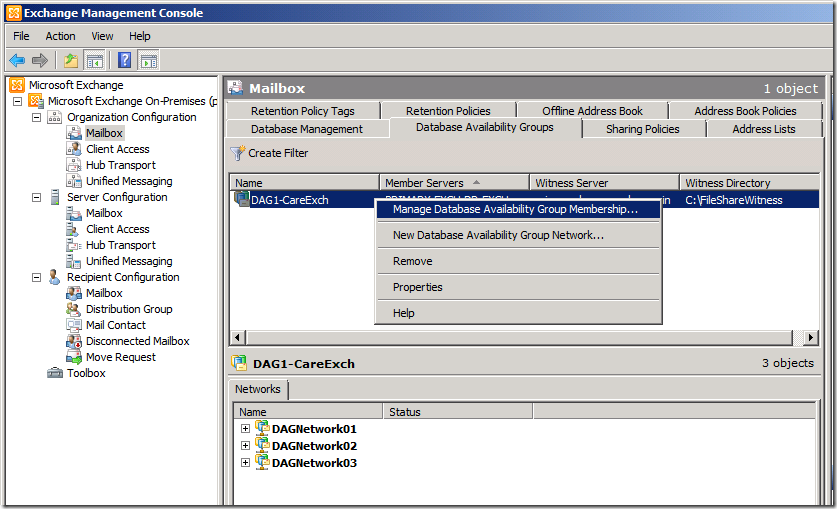 Adding the members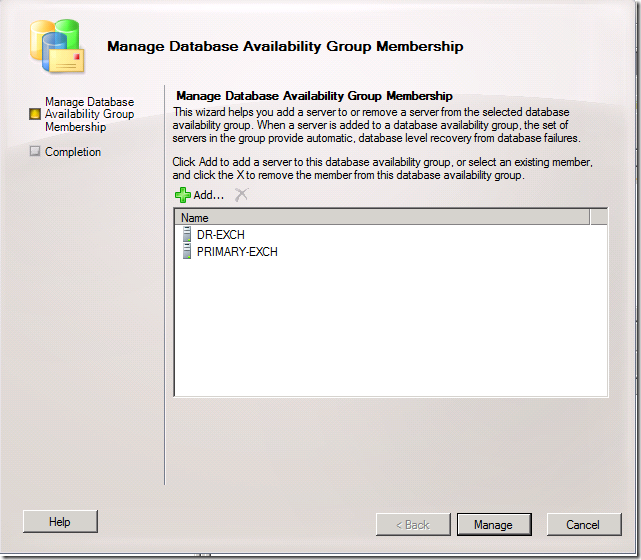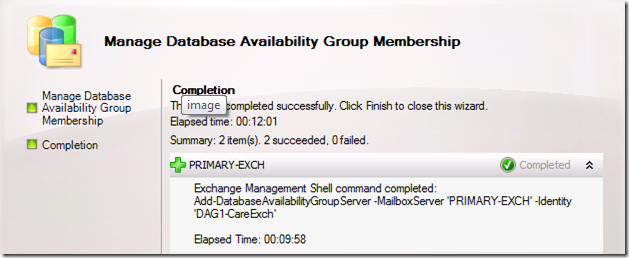 Great !! Now your DAG is ready !!
Now go to your DAG properties , Assign a Static IP for the DAG
if you have difference subnet or different class of ip on either Sites.
Have Two IP address for the DAG so that DAG resource can be online while failover on either sites
If you have only one Subnet , then you can have only one Ip address for the DAG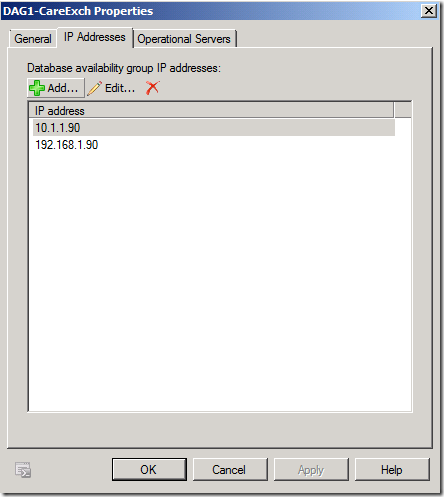 Now you can see your Database Master Servers are pointing to the DAG

Now you can add a Mailbox Database Copy , So that Databases can Failover Each other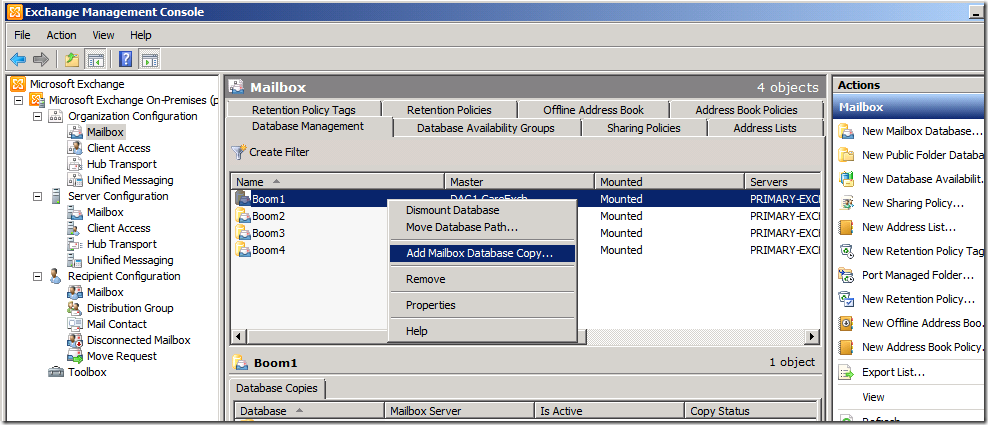 Choosing a Server to Add a Copy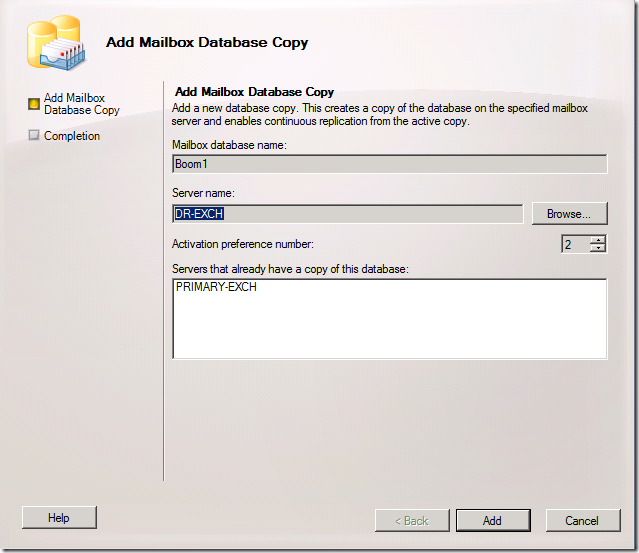 Now your Copy Shows Healthy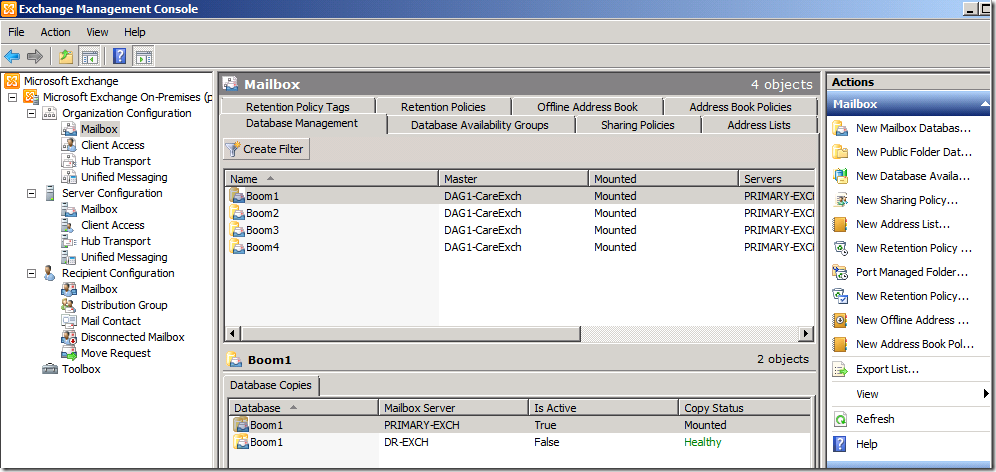 Now you can Activate a copy on the other server to Test the Failing over a database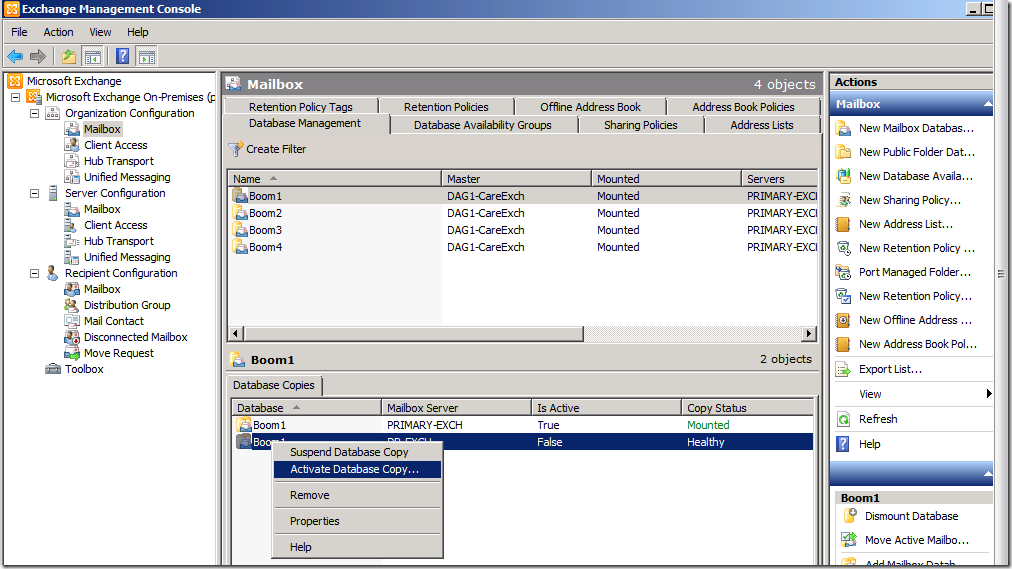 Lossless is 0 logs lost, Good Availability is 3 logs lost, and Best Availability, which is the default, is 6 logs lost
Best Effort – You might have a massive loss of data.
You can choose as per your convenience ,Great !! you did a Database failover now !!
For Disaster Recovery Purpose You got to add Two more steps
Enabling DataCenterActivationMode , This avoids Split Brain Syndrome if the whole Primary Datacenter Fails
Set-DatabaseAvailabilityGroup "DAG1-CareExch" –DataCenterActivationMode DAGOnly

Configuring Alternate File Share Witness
Set-DatabaseAvailabilityGroup "DAG1-CareExch" –AlternateWitnessServer "DR-DC" –AlternateWitnessDirectory "C:\File Share Witness"

Now you got the Recommended design for DAG !!