Lets see how to configure Outlook anywhere for Exchange 2013
I have two servers load balanced Cloud1 and Cloud2 .
Open EAC – > Servers –>Servers –>Open the server properties –> Choose Outlook Anywhere
Specify internal hostname and External hostname as the same
Choose negotiate
Keep SSL offloading ON,  so that internal client have free traffic.
Do the same setting on both  the Exchange 2013 servers.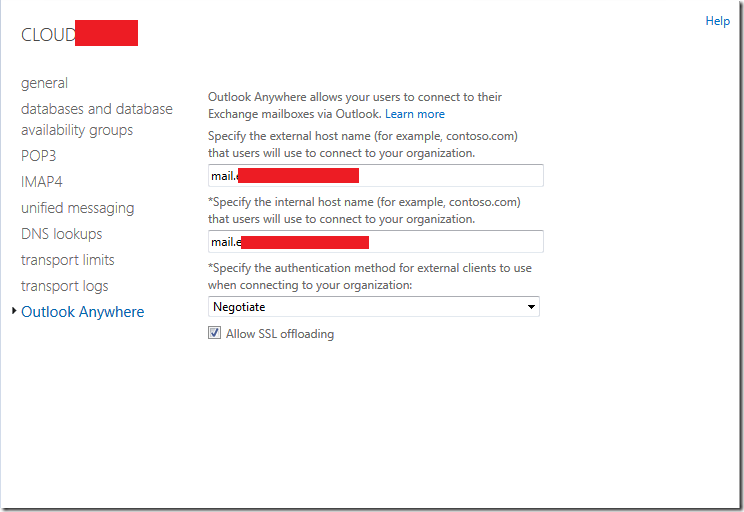 Now if you have a wild card certificate make sure you set this.
Set-OutlookProvider EXPR -CertPrincipalName:"msstd:*.domain.com"
Now to check everything is good.
To Test – 
Note (On-Premises) : Make sure you CNAME record is configured for autodiscover to work – Autodiscover.domain.com CNAME to Mail.domain.com
Login to
https://testconnectivity.microsoft.com/
Run Outlook Anywhere (RPC over HTTP)

Multi-Tenant Scenario –
In a Multi tenant scenario – Make sure you got the srv record created . so that you need not to have more entries on the SAN Cert.
Lets say
Domain1.com
Domain2.com
is hosted on Cloud.com
You got configure a SRV record in Domain1.com and Point to Cloud.com , So that Outlook auto discover will contact Cloud.com Autodiscover and Outlook will work without any Certificate Errors
and you need not to buy Cert for Every domain you host on the cloud.
For Example a SRV record should look like :
"_autodiscover._tcp.testcareexchange.biz"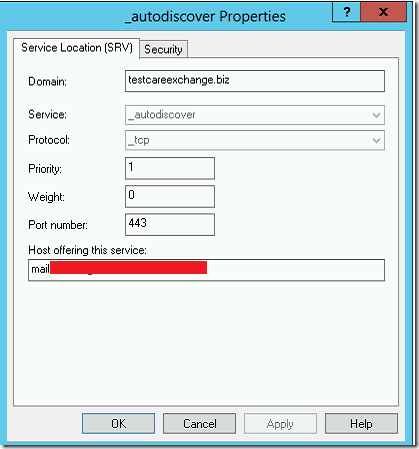 By Using SRV record method

—
Recommended  Using Autodiscover Service for Outlook Configuration . As the Servername will be ExchangeGuid@ mailbox@domain.com
—
Make Sure Outlook is Updated using Windows Update
So that Outlook will support exchange 2013
Exchange 2013 support the following minimum versions of Microsoft Outlook and Microsoft Entourage for Mac:
Outlook 2013 (15.0.4420.1017)
Outlook 2010 Service Pack 1 with the Outlook 2010 November 2012 update (14.0.6126.5000).
Outlook 2007 Service Pack 3 with the Outlook 2007 November 2012 update (12.0.6665.5000).
Entourage 2008 for Mac, Web Services Edition
Outlook for Mac 2011