In some situations like if we wish to study a new environment or restructure a existing environment or check user teams channels membership across the tenant. we have to Export all the Teams Channels and all the members of it to a CSV file. There is no command let available to retrieve the Teams and Channel members in bulk. Pipe line won't work in this case. Its very similar to Distribution Group and its members like in Exchange online.Which i wrote a script many years back.
Lets see how to do similar stuff in Microsoft Teams PowerShell native module. if you want to know how to install latest repositories and
PLEASE NOTE YOU HAVE TO USE PRE RELEASE version for the script to work which is covered in below article. Get-TeamChannelUser doesn't work on Production PowerShell Respository.
Install-Module PowerShellGet -RequiredVersion 2.2.4.1

To use pre-release version – (Get-TeamChannelUser is available only on pre release version for now)
Connect to Microsoft Teams Powershell i have covered in this article.

Choose the Task 1 to Export the minimal data and display in shell.
PS C:\Scripts> .\TeamsChannelMemberReport.ps1
Teams Channel Member Report
—————————-
1.Display in Microsoft Teams Shell
2.Export to CSV File
3.Display Specific Microsoft Team in Shell
4.Export Specific Microsoft Team to CSV File
Choose The Task: 1
User SMTP Address Role Channel DisplayName Team DisplayName
—————– —- ——————- —————-
xx@localhost Owner General Teams_Azure365pro
xx01@localhost Member General Teams_Azure365pro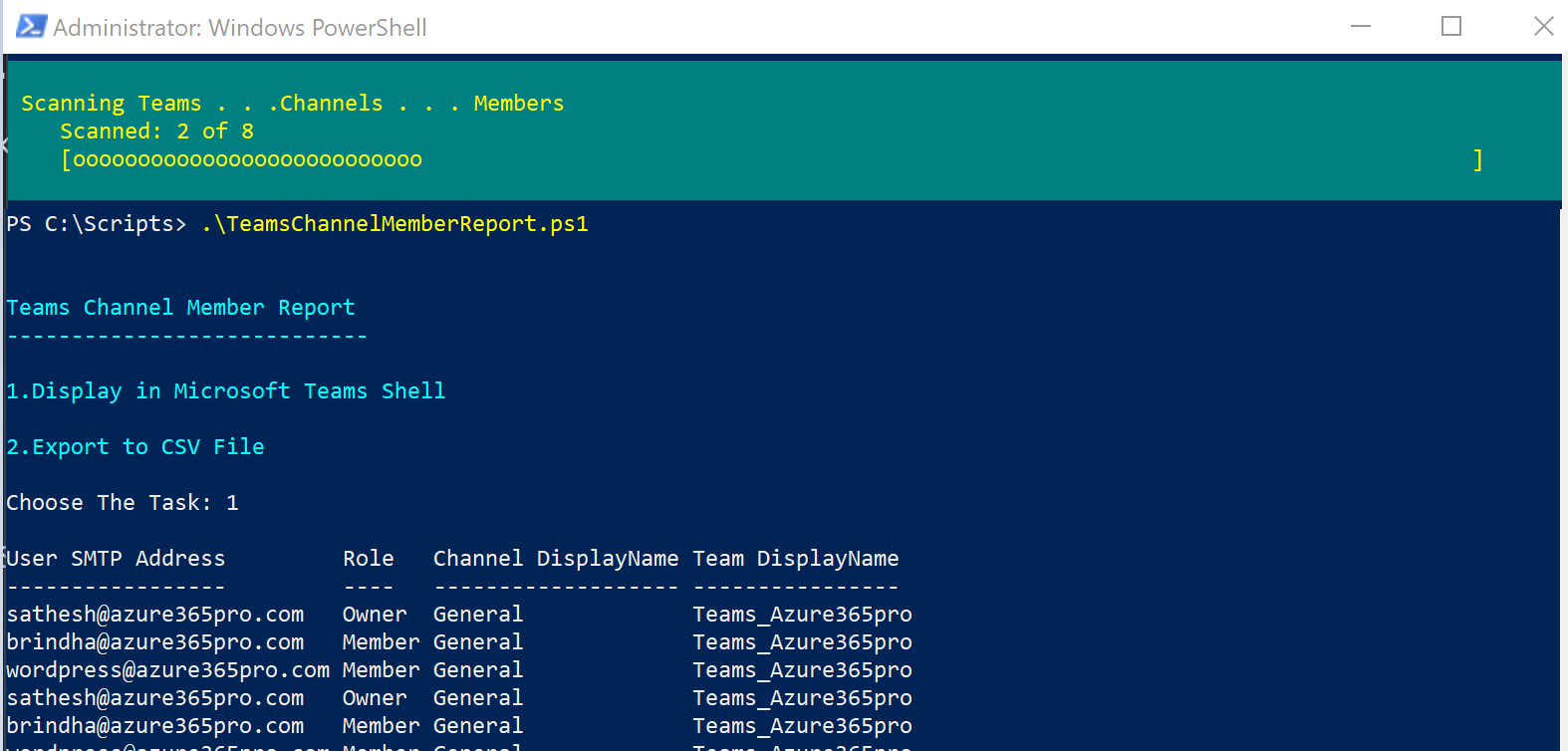 Choose the Task 2 to Export the all the Teams Channels Membership data with Teams settings to a CSV File.
PS C:\Scripts> .\TeamsChannelMemberReport.ps1
Teams Channel Member Report
—————————-
1.Display in Microsoft Teams Shell
2.Export to CSV File
Choose The Task: 2
Enter the Path of CSV file (Eg. C:\Teams.csv): c:\Scripts\Teams.csv
CSV Will Export Below Columns
DisplayName
UserId
User SMTP Address
Role
Channel DisplayName
Channel Description
Channel MembershipType
Team GroupID
Team DisplayName
Team Description
Team Visibility
Team MailNickName
Team Classification
Team Archived
Team AllowGiphy
Team GiphyContentRating
Team AllowStickersAndMemes
Team AllowGuestCreateUpdateChannels
Team AllowGuestDeleteChannels
Team AllowCreateUpdateChannels
Team AllowCreatePrivateChannels
Team AllowDeleteChannels
Team AllowAddRemoveApps
Team AllowCreateUpdateRemoveTabs
Team AllowCreateUpdateRemoveConnectors
Team AllowUserEditMessages
Team AllowUserDeleteMessages
Team AllowOwnerDeleteMessages
Team AllowTeamMentions
Team AllowChannelMentions
Team ShowInTeamsSearchAndSuggestions
CSV File will look like –

Git Public Repository Link –