Configuring Defender Antivirus Policy in Microsoft Endpoint Manager.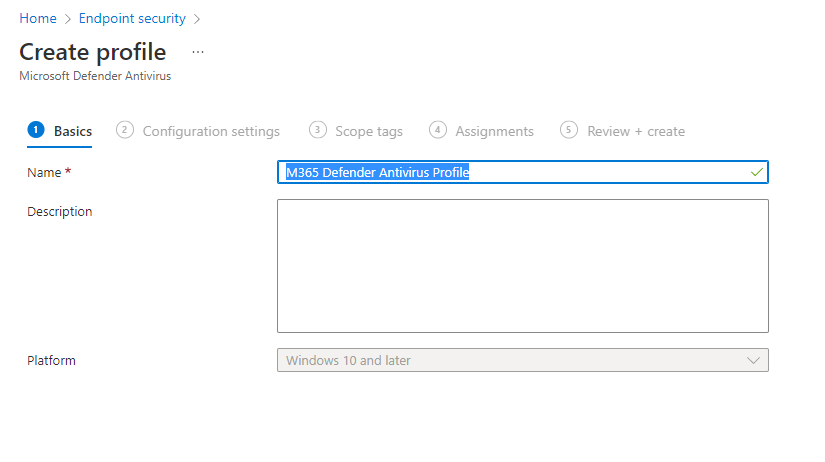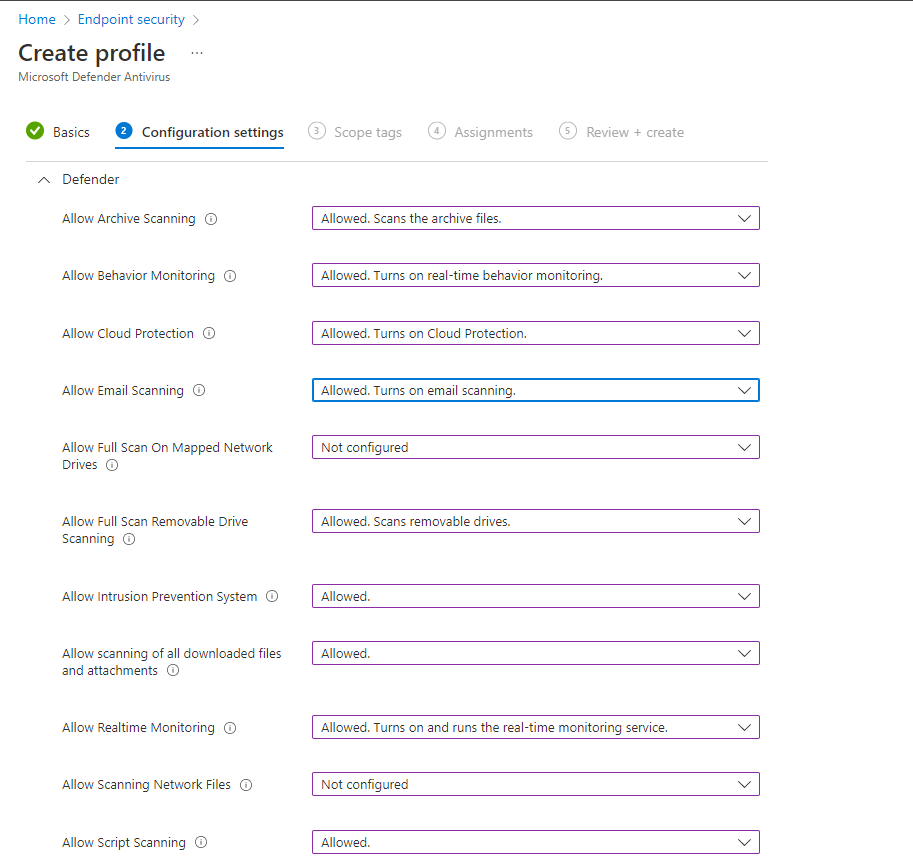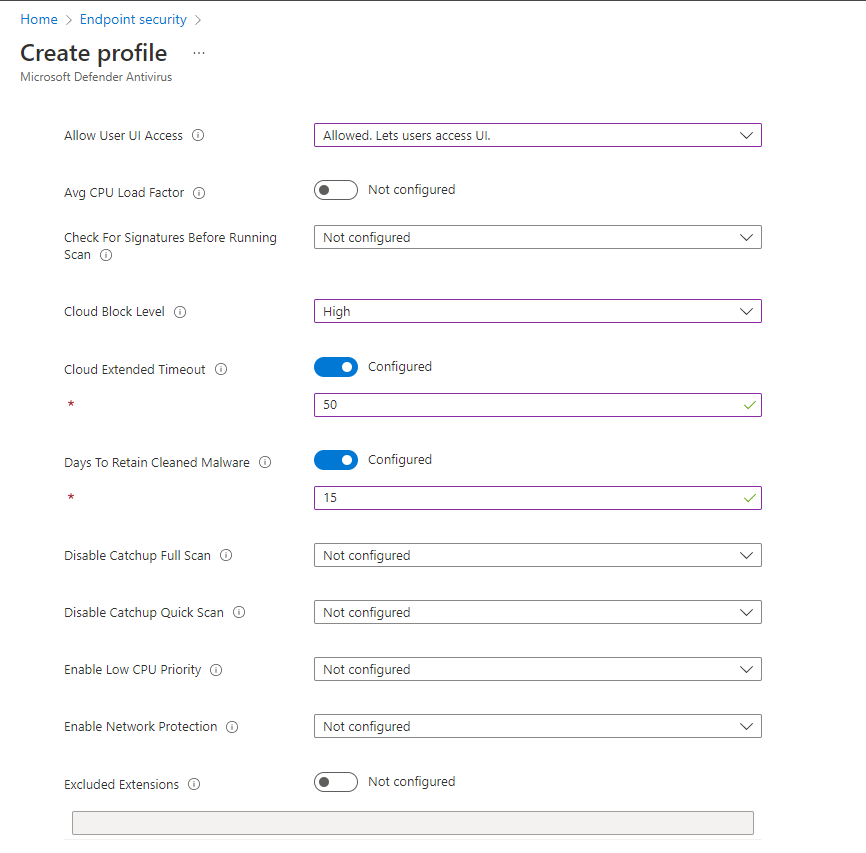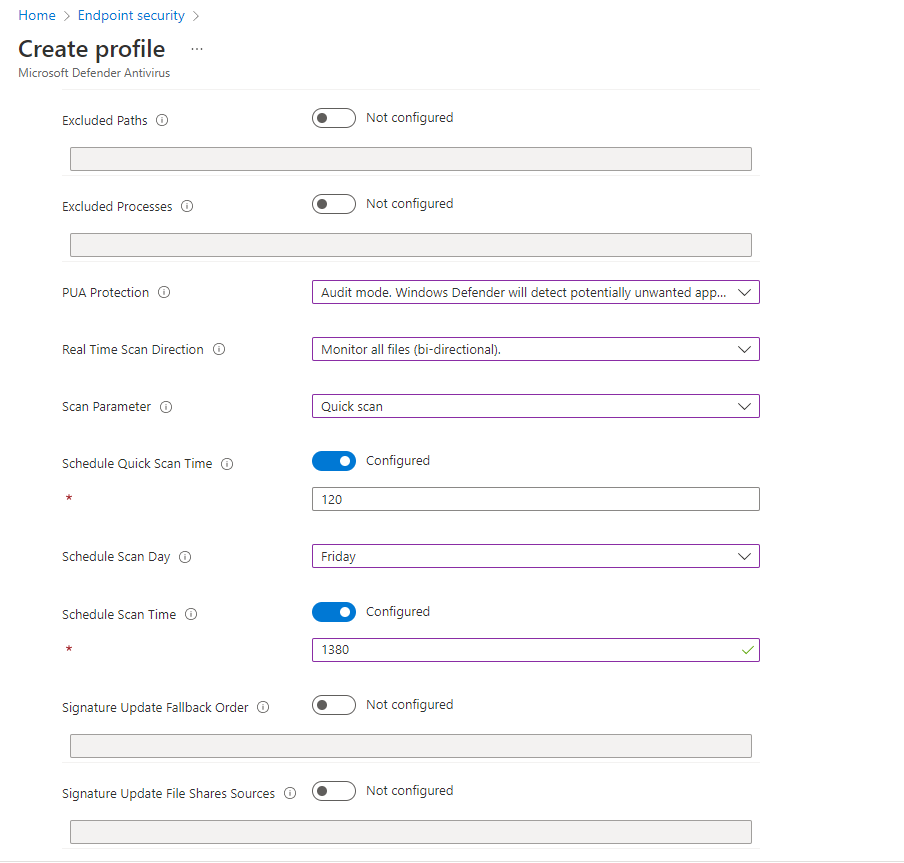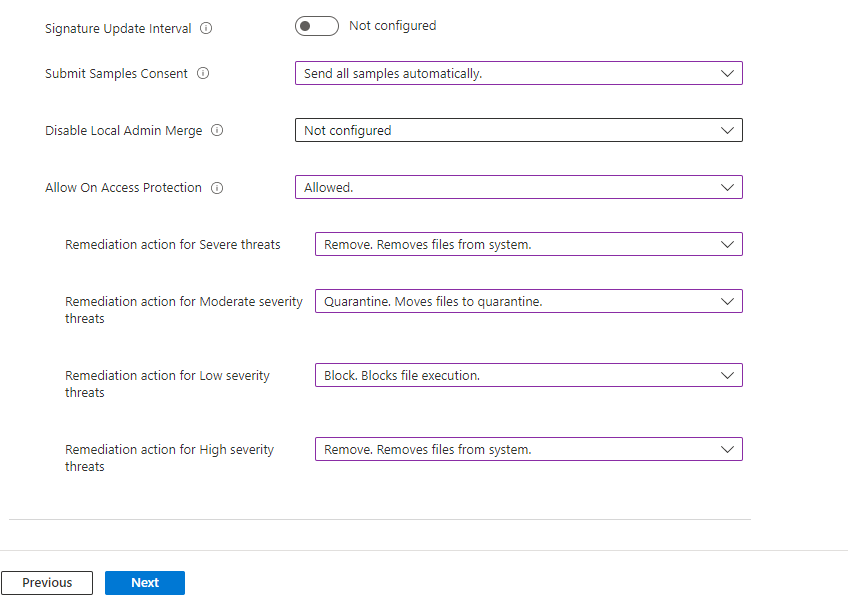 Allow Archive Scanning
Allowed. Scans the archive files.
Allow Behavior Monitoring
Allowed. Turns on real-time behavior monitoring.
Allow Cloud Protection
Allowed. Turns on Cloud Protection.
Allow Email Scanning
Allowed. Turns on email scanning.
Allow Full Scan On Mapped Network Drives
Not configured
Allow Full Scan Removable Drive Scanning
Allowed. Scans removable drives.
Allow Intrusion Prevention System
Allowed.
Allow scanning of all downloaded files and attachments
Allowed.
Allow Realtime Monitoring
Allowed. Turns on and runs the real-time monitoring service.
Allow Scanning Network Files
Not configured
Allow Script Scanning
Allowed.
Allow User UI Access
Allowed. Lets users access UI.
Avg CPU Load Factor
Not configured
Check For Signatures Before Running Scan
Not configured
Cloud Block Level
High
Cloud Extended Timeout
50
Days To Retain Cleaned Malware
15
Disable Catchup Full Scan
Not configured
Disable Catchup Quick Scan
Not configured
Enable Low CPU Priority
Not configured
Enable Network Protection
Not configured
Excluded Extensions
Not configured
Excluded Paths
Not configured
Excluded Processes
Not configured
PUA Protection
Audit mode. Windows Defender will detect potentially unwanted applications, but take no action. You can review information about the applications Windows Defender would have taken action against by searching for events created by Windows Defender in the Event Viewer.
Real Time Scan Direction
Monitor all files (bi-directional).
Scan Parameter
Quick scan
Schedule Quick Scan Time
120
Schedule Scan Day
Friday
Schedule Scan Time
1380
Signature Update Fallback Order
Not configured
Signature Update File Shares Sources
Not configured
Signature Update Interval
Not configured
Submit Samples Consent
Send all samples automatically.
Disable Local Admin Merge
Not configured
Allow On Access Protection
Allowed.
Remediation action for Severe threats
Remove. Removes files from system.
Remediation action for Moderate severity threats
Quarantine. Moves files to quarantine.
Remediation action for Low severity threats
Block. Blocks file execution.
Remediation action for High severity threats
Remove. Removes files from system.