Everyone is aware that Exchange 2010 DAG is a successful implementation, lets see about some of the new features available in Exchange 2013 Database Availability Group (DAG)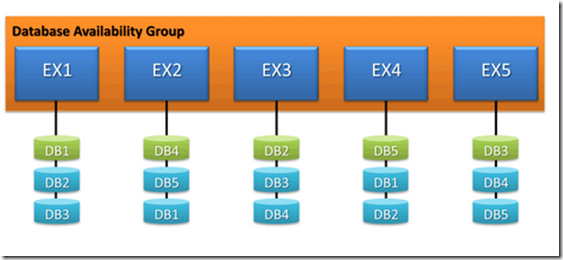 We will get to know about the 5 important features introduced in Exchange 2013
1.Multiple databases per disk 
2.AutoReseed configuration
3.Safety Net feature – Activating a lagged copy with no data loss
4.DAG network auto-configuration
5. Site resilience – Having Mail.domain.com with 2 or more IP address
Multiple databases per disk
Exchange 2013 includes support of multiple databases on the same disk, as there is much more reduction IOPS in terms of disk usage.
How it is achieved ?
Exchange 2010 – Check point depth = 5 mb , where passive copies where more aggressive in pre reading operations , results in higher IOPS
Exchange 2013 – Check point depth = 100mb, where passive copies remain less aggressive , gives more room to the disk in processing more operations
AutoReseed configuration
In scenarios like disk corruption, disk failure, Database corruption , manual intervention was needed immediately in order to fix the failed copies, but Exchange 2013 as a option of AutoReseed configuration
which can automatically restore databases after a disk failure by using spare disks that have been provisioned already in the system.
How it is achieved ?
Pre-mapping a set of volumes and databases using mount points. while disk failure happens or disk is no longer available to the operating system,the allocated spare volume is used by the system, and the affected database copies are reseeded automatically and gets to a status of healthy back again , giving a span of time to the administration to replace the faulty disks
Good to know –
AutoDagVolumesRootFolderPath property refers to the mount point that contains all of the available volume
AutoDagDatabasesRootFolderPath property refers to the mount point that contains the databases
AutoDagDatabaseCopiesPerVolume, is used to configure the number of database copies per volume
Safety Net feature – Activating a lagged copy with no data loss
lets say you have a lagged copy that has a 1-day of replay lag. In that case, you would configure Safety Net for a period of 1 days , Activating the lagged copy you have an option to receives those one day of email again. preventing data loss
How it is achieved ?
Safety Net is similar to transport dumpster , once you configure safety net for 1 day , The copy of the delivered message is already stored in Safety Net, so shadow redundancy can redeliver the message from Safety Net if necessary
Once you mount a lagged copy, which triggers an automatic request to Safety Net to redeliver the last  days of mail. which prevents a lot of stress for admin. searching for the lost email
DAG network auto-configuration
DAG networks are now automatically managed by the system. where MAPI and replication networks are configured automatically
Good to know –
How to change it to manual ?
Set-DatabaseAvailabilityGroup cmdlet to set the ManualDagNetworkConfiguration parameter to True.
Site resilience – Having Mail.domain.com with 2 or more IP address
Although Exchange 2013 continues to use DAGs and Windows Failover Clustering for Mailbox server role high availability
We can have the Client Access FQDN assigned with two or more IP's , where if one ip fails to reach , the other site IP picks up to restore connectivity
eliminating the manual process like previous versions
Hope the article is informative !