Unlike Previous versions , Exchange 2013 Coexistence is done with ease without much complexity involved. but understanding the nature of the legacy clients is very important.
Once we make sure Exchange 2013 is completely configured. We got to re route the mail flow and URL name space , these procedure will explain using the same name space without introducing new name spaces
For Example (Choosing a typical example for better understanding)
My Outlook Web App URL is
https://mail.testcareexchange.biz/owa/
My MX record pointing to
testcareexchange.biz == > Mail.testcareexchange.biz
which points to Exchange 2010.
Now I want to switch over to Exchange 2013 by changing the MX and A record of mail.testcareexchange.biz , autodiscover.testcareexchange.biz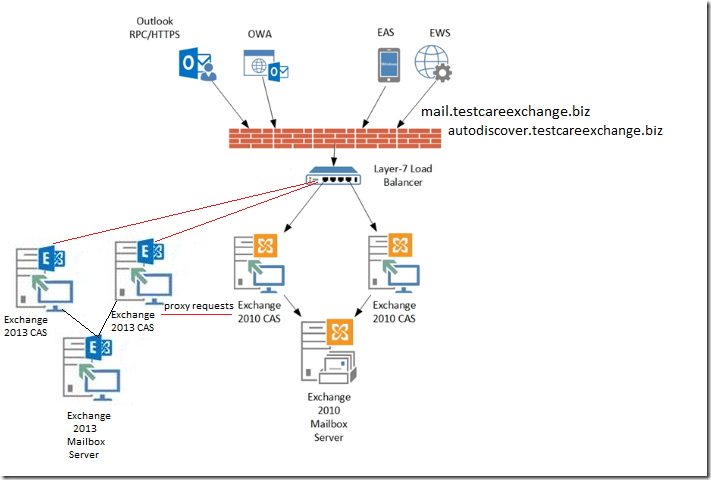 Before doing this – We will see the things should be looked at
How Internal Outlook (Connected to Exchange 2010) Will affect ?
Internal Outlook clients Which are connected to Exchange 2010 is not going to affect anyways.They will be still connected to Exchange 2010
How autodiscover going to work from External world ?
Once autodiscover.testcareexchange.biz points to exchange 2013. All requests will be proxied to the Exchange 2010 Server.
How Exchange 2010 Outlook anywhere clients going to connect once the switch over happens ?
All Exchange 2010 Outlook clients request will be proxy the requests to exchange 2010
Exchange 2010 Outlook anywhere should be enabled.
NTLM should be enabled in exchange 2010 server – Adding to Basic authentication.
How Outlook Web App going to work ?
Outlook Web App request will be proxied once it determines the location of the mailbox server
how to Verify Proxy works – you can login to Exchange 2013 Server
Browse
https://localhost/owa
Use a Exchange 2010 mailbox creds , Request should get proxied and Exchange 2010 Owa should open.
How Exchange Active Sync going to work ?
Active Sync Client requests will be proxied to Exchange 2010
How Exchange Web Services going to work ?
Exchange Webs Services requests going to be proxied to Exchange 2010
How IMAP – POP going to work ?
It will use the InternalConnectionSettings property value for each Exchange 2010 Client Access and it will attempt to connect to it .