There are some basic prerequisites you need to check before you start the Pilot phase. You also need to make sure that you know what the customer's overall IT environment is like, because that environment will affect the planning decisions you make throughout the deployment process. However, unlike a traditional IT deployment, you do not need to spend several weeks in research and planning before running the pilot.
Office 365 – Environmental Prerequisites
Supported version of Office
Supported Operating System
Supported Browser
Authenticated Access over Port 80 / 443
Office 365 – Detailed Software Prerequisites
Check the below link for the detailed system requirements for Office 365 for business.
https://support.office.com/en-US/article/Office-365-system-requirements-719254C0-2671-4648-9C84-C6A3D4F3BE45
Office 365 – Customer Information Collection
Before starting the pilot, there is essential information you must collect from the customer. This information will help guide the pilot and provide useful background data that will assist you in later phases.
This is further explained under Technical & Program Readiness for the better understanding.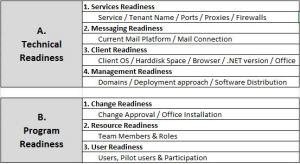 Let's deep dive in details a bit – Technical / Program Readiness
Service Readiness
Does the customer have an existing trial account they can use?
The tenant name is the initial domain name in the form <tenantname>.onmicrosoft.com.
Indicate which ports are open, such as 80, 443, 110, 993, and 995.
Check that the client computers can access websites such as *.microsoftonline.com, *.onmicrosoft.com, *.microsoftonlinesupport.net, *.microsoftonlineimages.com, *.microsoftonlineimages.net, *.live.com, admin.messaging.microsoft.com, and * r3.res.outlook.com.
Are the clients using any Internet proxies?
Service administration. The service administration must be performed from a workstation with the following requirements:

Operating system: Windows 7, Windows Server 2008 R2
Microsoft .NET 3.5.1
Windows PowerShell
PowerShell unsigned execution policy
Messaging Readiness
Messaging readiness is key information to gather, because this data affects the migration options and implementation planning for Exchange Online. The two main areas to identify are:
What is the current mail system in place?
How can it be accessed from outside the network?
Client Readiness
Client operating system. Supported operating systems include Windows 7, Windows 8, Windows Server 2008 R2, and Windows Server 2012. All other operating systems should be recorded but are not supported. System management software such as System Center 2012 Configuration Manager (SCCM) can collect this information within the organization.
Hard disk space. 3 GB is required for installation of Office 365 ProPlus. Again, SCCM can collate this information.
Browser type and version. Supported browsers include Microsoft Internet Explorer 8, Internet Explorer 9, or Internet Explorer 10; Mozilla Firefox 10.x or a later version; Apple Safari 5; and Google Chrome 17.x.
Microsoft .NET Framework. Supported versions of Microsoft .NET include 3.5, 4.0, and 4.5.
Connection to the Internet. Clients have regular Internet access and can access the Office 365 service.
Office version. You should record the supported and unsupported versions of Office that the intended pilot users currently have deployed, including Office XP and earlier. Office Telemetry is a feature of Office 365 ProPlus and Office 2013 that IT pros can use to collect information about Office, including earlier versions of Office.
Management Readiness
Domain join. Verify that clients are domain-joined. Although it does not prevent the pilot from running, domain membership affects options in the Deploy and Enhance phases.
Deployment approach. Determine how you intend to distribute software within the pilot. Options could include self-service, group policy, or through a system management tool such as SCCM.
Software distribution. You should record how the organization currently distributes software, which may be through group policy, batch files, SCCM, or a third-party tool.
Change Readiness
The following items should be addressed when planning for change readiness:
Change approval. Here you need to find out if change approval has been obtained for this project or if each change must be approved during implementation.
Office versions. Office 365 ProPlus will be installed side-by-side with the existing Office version. You will need to check that you can make this change to the primary Office version for the pilot users.
Resource Readiness
The following items should be addressed when planning for resource readiness:
Team roles. Here you need to list the resources with the following or equivalent roles:
Project Manager
Client Lead
Messaging Lead
Network Lead
Participation. For each of the preceding roles, identify how each person will participate in the pilot process.
User Readiness
The following items should be addressed when planning for user readiness:
User roles: Identify how users will fit into different roles within the pilot. These roles could be:

Technical team
Non-technical team
Management team
Other roles

Pilot users. Selecting the appropriate users to participate in the pilot is essential to the pilot's success. Selection of the pilot users is covered in the next lesson.
Pilot users need to participate fully in both the Pilot phase and in the debriefing and analysis afterward.