While accessing a mailbox via Outlook Web Access – its ends up with this below error
(A problem occurred while you were trying to use your mailbox)

Steps to resolve –
Verify its one mailbox or many mailboxes are having this issue
If its one mailbox try moving the mailbox to a different database and check if that resolves.
Verify mailbox is accessible via Outlook .
In my case . I was having Event generated for the particular user
Log Name:      Application
Source:        MSExchangeIS
Date:          4/19/2014 11:22:30 AM
Event ID:      9646
Task Category: General
Level:         Error
Keywords:      Classic
User:          N/A
Computer:      mail.careexchange.in
Description:
Mapi session "b3cb9ed0-e667-4568-997e-b5e518f6bb70: /o=CareExchange/ou=Exchange Administrative Group (FYDIBOHF23SPDLT)/cn=Recipients/cn=Sathesh. | CareExchange70c" exceeded the maximum of 16 objects of type "session".
Open Registry
On the server that is running the Exchange Server 2010 Mailbox role, click Start, click Run, type regedit, and then click OK.
Locate and then click the following key in the registry:

HKEY_LOCAL_MACHINE\SYSTEM\CurrentControlSet\Services\MSExchangeIS\ParametersSystem

On the Edit menu, point to New, and then click DWORD Value.
Type Maximum Allowed Service Sessions Per User, and then press ENTER.
On the Edit menu, click Modify.
Type the decimal value that specifies the number of sessions to 28 (Max is 32), and then click OK.
Exit Registry Editor.
Make sure you don't put it to max . if there are many users . it can make the server to be unstable as all the users will be able to make 28 non-mapi sessions to the server .
Non Mapi sessions are IMAP, POP, Outlook Web Access, Microsoft Exchange ActiveSync (EAS), or Exchange Web Services (EWS).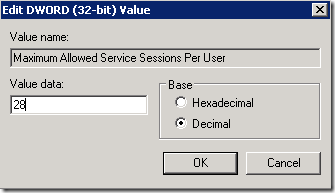 Click Ok.
Now mailbox is accessible .
(you can try doing a IISreset if its still inaccessible)
Reference KB –
https://support.microsoft.com/en-us/help/980049/you-cannot-connect-to-an-exchange-server-2010-mailbox-from-outlook-web